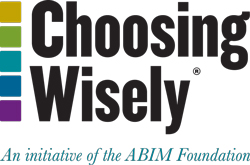 Choosing Wisely is a national campaign. Its goal is to promote conversations between health care providers and patients about the most appropriate care. This dialog can help patients avoid procedures and treatments when harm may outweigh the benefits.
The American Physical Therapy Association joined the campaign, which was started by the American Board of Internal Medicine Foundation. APTA created a list of "5 Things Physical Therapists and Patients Should Question."
The Choosing Wisely campaign educates consumers on health care procedures that tend to be done frequently, yet whose usefulness is called into question by evidence. That said, APTA's list is not meant to dictate care decisions. It also does not seek to prohibit any specific treatment in all scenarios. APTA believes health care decisions should be made based upon the:
Best available evidence.
Clinical judgment of the physical therapist.
Preferences and goals of the patient.
These resources provide more information on the Choosing Wisely campaign.