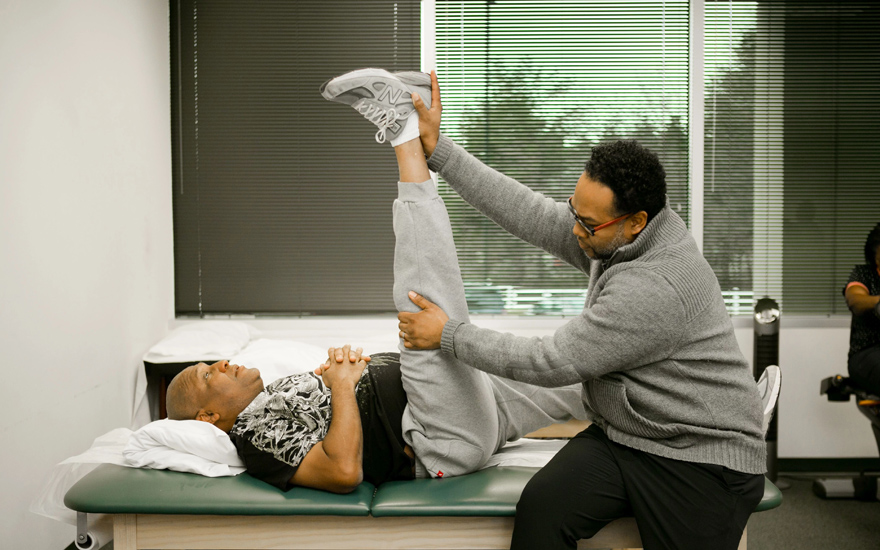 When you have a problem that limits your movement or physical activity, a physical therapist can help. Physical therapists are licensed health care professionals.* They are the providers of choice to restore function and movement for people with many conditions, including those affecting muscles, joints, bones, or nerves. Physical therapists help people safely manage pain and recover from injury, illness, or surgery. They also can help you prevent and improve many chronic conditions. Some physical therapists also offer fitness and wellness services.
But health care can seem expensive, and you may have concerns about whether your insurance will cover your visits. Whatever your reason for needing physical therapy, knowing how to access care is helpful. It also is important to understand how payment for physical therapist services works.
Here are answers to common questions about access to and payment for physical therapy.
Learn the definitions of key terms used to describe the health plan benefits.
How Can I Get Access to Physical Therapy?
Primary care providers and surgeons often refer their patients to see a physical therapist when needed. You also can request a referral. Talk to your physician, nurse practitioner, or physician's assistant about how physical therapy can help you.
You also can go straight to a physical therapist without a referral. All states and the District of Columbia allow direct access to a physical therapist.**
You can search for a physical therapist in your area using Find a PT.
Learn more about the benefits of physical therapy.
How Does Insurance Pay for Physical Therapist Services?
Insurance companies control whether and how much they pay for all health care, including physical therapy. They also may limit the number of visits they will cover.
Most insurance plans pay for medically necessary health care services. This includes Medicare, workers' compensation (for work-related injuries), and private health care plans. But not all insurance companies use the same definition of medical necessity. In general, though, insurance providers consider physical therapist services medically necessary when they:
Are appropriate, safe, and effective for your diagnosis or treatment of your condition.
Meet your medical and functional needs.
Align with the general standards of health care.
You may need physical therapy if you cannot do the daily activities you are used to doing. You also may need help to manage pain or restore mobility after surgery, injury, or illness.
Depending on its benefits, your plan may cover physical therapy in full or in part. Many plans limit your out-of-pocket cost for each visit to a copayment. Others require you to pay for part or all of your visits until you have reached your deductible. After that, the insurance plan pays 100% up to their set limit. Some insurance companies classify physical therapists as specialists. Certain plans require you to get a referral from your primary care provider before they will pay for any specialist's services.
For example, your copay might be $20 to see your primary doctor and $30 for a specialist (such as a physical therapist).
The number of visits needed depends on each person and their specific condition. Your physical therapist will work with you to ensure the most efficient and cost-effective treatment. They also can estimate how many visits you may need and what your out-of-pocket costs will be.
What if I Don't Have Insurance?
In many cases, a physical therapist can help you in just a few visits. Without insurance, or if your plan does not cover physical therapy, you can still see a physical therapist by paying directly. This is called self-pay or cash based. Self-pay is also an option if you choose to see a provider who is not in your health plan's network. Ask your physical therapist the exact cost of each visit.
If cost is a barrier, talk to your physical therapist. Ask them how you can get the most value and the quickest recovery. Being an active partner in your recovery is an essential part of physical therapy. You will reach your goals more quickly if you follow your physical therapist's recommendations, including:
Doing the home exercise program they design for you.
Following your self-management plan. Your physical therapist will educate you on ways to manage and improve your condition. They also may identify changes you can make to your daily activities during and after recovery.
Many clinics will work with you on a payment plan so you can get the care you need when you need it.
What if My Physical Therapist Doesn't Participate in My Insurance Plan?
Except for traditional Medicare and most HMOs, many insurance plans allow members to go "out of network." This means you can choose to see a physical therapist who is not "in-network" with your plan. In most cases, plans pay less to out-of-network providers than to in-network providers. You might have to pay the difference between the provider's charges and what the insurance company pays them.
Some people decide to go out of network to see the physical therapist of their choice. Before making an appointment, ask if your physical therapist is in-network with your plan. The physical therapy clinic can tell you what your out-of-pocket costs will be.
Learn more about choosing your physical therapist.
Are There Certain Types of Physical Therapist Services That Insurance Doesn't Cover?
Many physical therapists work with people to enhance sports performance. They also can provide services to improve general health and overall well-being. Some health plans do not cover these fitness, prevention, and wellness services. However, some do. Also, there may be some treatments that your specific policy does not cover.
A physical therapist can be a valuable partner in improving your overall fitness and well-being. Ask your health insurance company if your plan includes coverage for fitness, prevention, and wellness services. If not, you can still see a physical therapist to achieve these benefits, but you will need to pay out of pocket. Ask the clinic about the cost of elective services in advance. Many of them will create a payment plan for you.
Physical therapists are movement experts. They use the latest evidence to design treatment plans for each person's needs and goals. They improve quality of life through hands-on care, patient education, and prescribed movement. To find a physical therapist in your area, visit Find a PT.
Learn more about preparing for your first visit with a physical therapist .
*Physical therapists are licensed by each state's agency that oversees physical therapy licensure. You can verify that your physical therapist is licensed by visiting your state's website.
**A referral may still be required by your insurance plan, corporate policies, or state practice laws. Some states limit the type or length of treatment without a referral. Your physical therapist will work with your primary care provider if additional visits are needed.