Get treatment for your specific needs and goals.
Download this resource in English(.pdf) or Spanish.pdf
Get care that's specific to your goals, your body, and your lifestyle.
Physical therapists and physical therapist assistants help you maximize your movement, manage pain, avoid surgery and prescription drugs, manage chronic (long-term) conditions, and recover from and prevent injury.
Scroll down to learn more about the many benefits of physical therapy.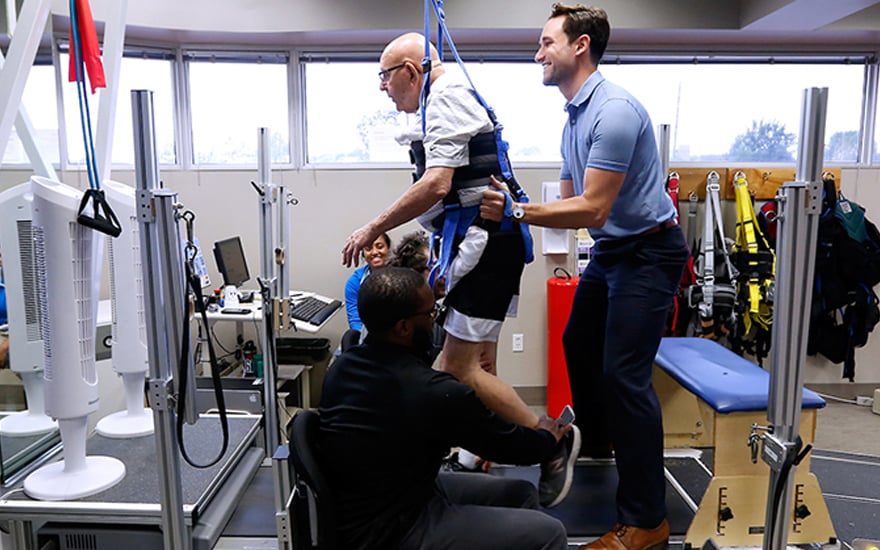 Maximize Your Movement
Physical therapists identify, diagnose, and treat movement problems. They help people maintain or restore as much function as possible. Physical function and movement are very important to:
Health, wellness, and fitness.
Managing pain.
Earning a living.
Independence.
Get the Recommended Amount of Physical Activity
Regular physical activity can benefit your physical, mental, and social health. It also helps to prevent or improve many chronic conditions, such as:
Physical therapists help people overcome barriers to physical activity.
Care For Your Specific Needs
Physical therapists design treatment plans specific to each person's needs, challenges, and goals. They work together with you to develop strategies and help you achieve your goals. Physical therapists and PTAs care for people of all ages and abilities.
Manage Pain and Avoid Opioids
While doctor-prescribed opioids are suitable for some cases, they only mask pain. Physical therapists help people manage pain without the risks of opioid use. Opioid risks include depression, substance use disorder, overdose, and withdrawal symptoms when stopping use.
To manage long-term pain, the CDC recommends safer options like physical therapy.
Avoid Surgery
Physical therapists help people manage pain and improve movement problems. Some pain and movement problems can become chronic and lead to surgery.
Physical therapy helps to reduce the symptoms of many chronic diseases and conditions. It also can keep many problems from getting worse. Physical therapists can help you avoid the need for, and the costs and risks of, surgery.
Research shows that physical therapy is as effective as surgery for some conditions, including:
Before you have surgery, try physical therapy.
In some cases, surgery cannot be avoided. Physical therapy helps people prepare for and recover after surgery.
Participate in Your Recovery
Physical therapists and PTAs empower people to take an active role in their care. They work with each other, and other health care providers, to make sure patients receive the best care.
Better Overall Value
Research has long shown that physical therapy is an effective treatment option for many symptoms and conditions. Working with a physical therapist and physical therapist assistant can help prevent chronic conditions from developing or worsening and enable a return to your previous level of function or activity.
A recent study also examined the overall value of choosing physical therapy over other options. Researchers calculated the economic impact of choosing physical therapy for the following eight conditions, representing a broad spectrum of physical therapist treatment:
Claudication (leg pain when walking due to restricted blood flow).
They found that physical therapy is effective and saves on all the hidden costs of your time, pain, missed life events, and the dollars paid for services. To learn more about the overall value of physical therapy for these specific conditions, visit our Economic Value of Physical Therapy page.
Health care dollars are finite. Choosing physical therapy over other treatments for these eight conditions could save the health care system millions of dollars annually. And this research can help to influence policies that better enable patient access to treatment options. It also may lead to health plan coverage that is both clinically effective and value-based. Patients and the health care system benefit when our health care dollars go further.
Care Where You Need It
You can see physical therapists and PTAs almost anywhere, including:
Private practices.
Outpatient clinics.
Home, work, and school.
Sports and fitness facilities.
Nursing homes and rehab facilities.
Communities.
Find a Physical Therapist
You don't need a doctor's referral for an evaluation by a physical therapist. Physical therapists are movement experts who improve quality of life through hands-on care, patient education, and prescribed movement.