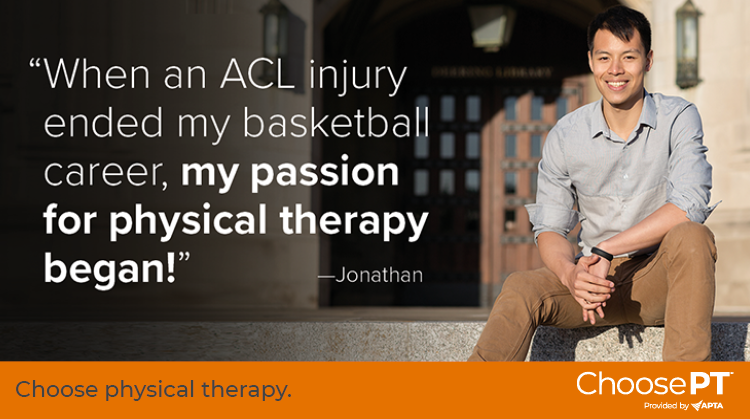 As the captain of his high school basketball team in Hsinchu, Taiwan, with 2 regional championships under his belt and a third within reach, Jonathan was an on-court leader. But a knee injury at the age of 18 changed all that.
"I remember crying harder than I had ever cried before," Jonathan said. "For months I had challenged myself and my teammates, but after my injury, my coach placed me on the sidelines and revoked my position as team captain."
Jonathan sustained a torn ACL when sprinting into a layup with an awkward angle of his knee. But the pain Jonathan felt wasn't isolated to his knee.
"I was absorbed by self-pity," he said. "I struggled with adapting to this new lifestyle."
Physical therapy changed that. Jonathan observed a mutual empathetic experience and camaraderie among patients in the clinic. Regardless of the injury or disability, each person was being prevented from enjoying the things they loved to do. For Jonathan, it was basketball. For others, it may have been swimming or dancing.
"We would cheer each other on as we each reached and conquered our incremental goals, as if we were a team," Jonathan said. "I began to recognize that my worries were self-centered, and I discovered gratification in helping others surpass life's obstacles."
After regaining his ability to walk, Jonathan looked to apply the values he used on the basketball court and in physical therapy to the world around him. He coordinated a service trip to the Philippines to build houses for the poor. During his experience, he observed people rising above the hardships that come with living in underserved communities, and it further motivated him to find more opportunities to serve others.
When he returned to Taiwan, he supported his old team off the court by assisting the training staff. While his basketball career was coming to an end, his passion for physical therapy was just beginning.
At Northwestern University, Jonathan interned at an outpatient physical therapy clinic and quickly realized that he'd found his dream job. In September 2015, Jonathan will be begin his education toward becoming a physical therapist, 5 years removed from the injury that introduced him to physical therapy.
"I want to help others regain their momentum," he said, "and make tangible differences on the community."
Listen to Jonathan's story on Move Forward Radio.
Explore more patient stories like this one!
Physical therapists are movement experts who improve quality of life through hands-on care, patient education, and prescribed movement. You can contact a physical therapist directly for an evaluation. To locate a physical therapist in your area, visit Find a PT.