Listening Time — 19:22
Spinal stenosis is a degenerative disease. It causes a narrowing within vertebrae of the spinal column that results in pressure on the spinal cord. Sound like a problem that requires surgery? A study in the Annals of Internal Medicine suggests otherwise.
Anthony Delitto, PT, PhD, FAPTA, one of the authors of the study, talks about treatment for spinal stenosis. He also shares what patients should know about options to avoid going under the knife.
Download the podcast on iTunes or listen below:
Related Resources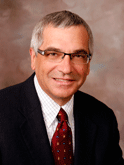 Anthony Delitto, PhD, PT, FAPTA, is a professor at the University of Pittsburgh. He serves as chairman of the university's Department of Physical Therapy and associate dean for the Centers for Rehab Services. He has won numerous physical therapy-related awards. Delitto also treats people with muscle, bone, and joint disorders.