Physical Therapy Guide to Chronic Fatigue Syndrome
Chronic fatigue syndrome is a condition noted by extreme fatigue that lasts for more than six months. Another name for CFS is myalgic encephalomyelitis. CFS affects less than 1% of the population in the United States, and women much more than men. About 90% of cases may not get diagnosed. Without treatment, CFS often limits a person's ability to do basic life activities. With treatment, including physical therapy, CFS can be managed well. Physical therapists help people with CFS ease their discomfort and improve function and quality of life.
Physical therapists are movement experts who improve quality of life through hands-on care, patient education, and prescribed movement. You can contact a physical therapist directly for an evaluation. To locate a physical therapist in your area, visit Find a PT.
What Is Chronic Fatigue Syndrome?
Chronic fatigue syndrome is a condition in which fatigue lasts for six months or longer. Fatigue is an overall feeling of weakness, lack of energy, or tiredness not relieved by sleep. Chronic fatigue is more intense than expected for a person's usual daily function. Scientists do not fully understand the cause(s) of CFS. Many researchers suspect that problems with certain systems in the body may be responsible, including the:
Energy production system, which uses oxygen and food to help the body produce energy.
Immune system, which defends the body against infection.
Autonomic nervous system, which controls many body functions such as heart rate, blood pressure, breathing, and digestion.
Gastrointestinal system, which helps the body digest food and get rid of waste.
CFS can result in loss of function (the ability to perform daily activities).
How Does It Feel?
The best-known symptom of CFS is postexertional malaise. PEM is the worsening of fatigue symptoms after minor physical or mental effort. A person may feel extremely tired doing everyday tasks or light physical activity. People with CFS also may experience:
General body pains.
Headaches.
Trouble thinking (sometimes called brain fog).
Sleep problems.
Some people describe CFS as feeling like you have the flu that has lasted for a very long time. Symptoms may fluctuate and change over time.
Full recovery is not common in adults with CFS. Recovery may be more common for children. A physical therapist can help you manage symptoms. They also can help you improve your ability to take part in daily activities.
Signs and Symptoms
Symptoms of CFS vary from person to person and include:
Fatigue. One of the primary symptoms of CFS is fatigue that lasts six months or longer.
General pain. There is a lot of overlap between CFS and fibromyalgia. Some studies suggest that 50% to 80% of people with CFS also qualify for a fibromyalgia diagnosis. Widespread pain is typical in both conditions.
Frequent headaches. Many people with CFS complain about recurring headaches. This can cause people to avoid physical activity. The right amount of physical activity can benefit your physical, mental, and social health. It also can help prevent or improve many chronic conditions.
Muscle weakness. Decreased physical activity can result in general muscle weakness.
Cloudy thoughts and confusion. CFS may make it difficult to concentrate or "stay on task." This is sometimes called brain fog.
Disturbed sleep. Despite generalized fatigue, people with CFS often have trouble sleeping.
Flu-like symptoms. People with CFS report flu-like symptoms, including sore throats, muscle aches, and overall fatigue.
How Is It Diagnosed?
CFS is diagnosed by ruling out other health problems that could cause long lasting fatigue. It also is based on what symptoms you report. Your doctor or physical therapist may order medical tests to rule out other conditions. There are currently no diagnostic tests that can confirm CFS.
A physical therapist may be the first to recognize the onset of CFS. Your physical therapist may ask you questions such as:
When do you feel fatigued?
How long has your fatigue lasted?
Do you experience any widespread pain or discomfort?
Have you noticed any big changes in your ability to do physical tasks?
Do you have problems sleeping?
Have you noticed any recent changes in your ability to think clearly?
Your physical therapist also may ask you to fill out form with questions. Your answers will help them better understand your physical state and screen for other conditions. Cardiopulmonary exercise testing may help determine how much function you have lost. It includes two tests arranged 24 hours apart.
How Can a Physical Therapist Help?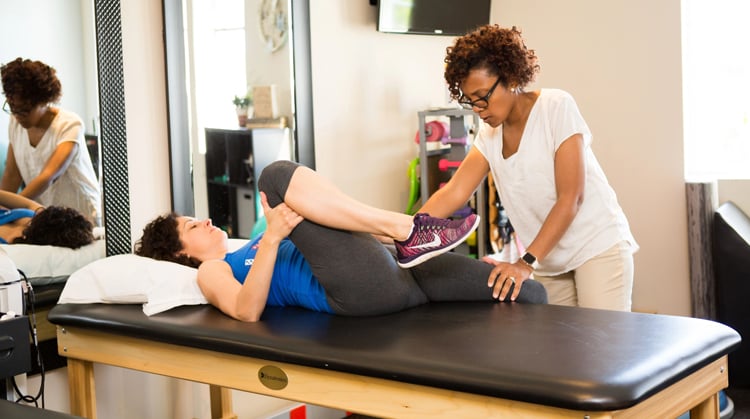 Your physical therapist will work with you to develop a treatment plan for your specific condition. The goal will be to help ease your discomfort and improve your ability to perform daily activities.
Because people with CFS have fatigue, pain, and weakness, treatment may focus on improving short-term endurance and strength. Your physical therapist also may check for other conditions, like depression. They may refer you to other specialists to help manage your symptoms.
Physical therapy treatments may include:
Education. Your physical therapist may design a program to help you save energy while doing daily activities. They also may teach you sleep-health promotion techniques.
Movement and strengthening exercises. Moving and exercising can improve your short-term endurance and strength. Movement also can help reduce your pain. Your physical therapist will identify and teach you specific movements to help reduce your symptoms.
Manual therapy. Your physical therapist may use manual (hands-on) therapy to help ease your symptoms. This treatment is used to mobilize your skin, bones, and soft tissues, to help reduce pain and improve movement.
Can This Injury or Condition Be Prevented?
The actual causes of CFS are not fully understood. To date, there is no sure way to predict or prevent it. Detecting the signs and symptoms of CFS early may help to manage it.
Education is key to managing CFS. Your physical therapist will work with you to develop methods to help you manage your symptoms. They also will help you better understand your condition.
Learning ways to manage CFS symptoms can help improve your function and quality of life. Your physical therapist or other members of your health care team may use strategies that include:
Teaching you ways to balance activity and rest periods.
A pacing self-management program. Your physical therapist can teach you mild, short-duration exercises. These will help you add physical activity to your life without making your symptoms worse.
Cognitive behavioral therapy and psychotherapy. These therapies may help address any related problems such as anxiety and depression.
What Kind of Physical Therapist Do I Need?
All physical therapists are prepared through education and experience to treat CFS. However, when seeking a provider, you may want to consider:
A physical therapist who is a board-certified clinical specialist or who completed a residency or fellowship in orthopaedic physical therapy. This physical therapist has advanced knowledge, experience, and skills that may apply to CFS.
A physical therapist who is experienced in treating the complex nature of CFS.
A physical therapist who has a background in pain science or pain neuroscience.
You can find physical therapists in your area with these and other credentials or clinical expertise on Find a PT, a tool built by the American Physical Therapy Association.
General tips when you are looking for a physical therapist (or any other health care provider):
Ask family, friends, or other health care providers to recommend a physical therapist.
When you contact a physical therapy clinic for an appointment, ask about the physical therapists' experience in helping people with CFS.
Be prepared to describe your symptoms in as much detail as possible during your first visit. Keep a journal of your pain experience and share it with your physical therapist.
The American Physical Therapy Association believes that consumers should have access to information to help them make informed health care decisions, and prepare them for a visit with a health care provider.
The following resources offer some of the best scientific evidence related to physical therapy treatment for chronic fatigue syndrome. They report recent research and give an overview of the standards of practice both in the United States and internationally. They link to a PubMed* abstract, which also may offer free access to the full text or to other resources. You can read them or print out a copy to bring with you to your health care provider.
Wormgoor ME, Rodenburg SC. The evidence base for physiotherapy in myalgic encephalomyelitis/chronic fatigue syndrome when considering post-exertional malaise: a systematic review and narrative synthesis. J Transl Med. 2021;19(1):1. Article Summary in PubMed.
Gotaas ME, Stiles TC, Bjørngaard JH, Borchgrevink PC, Fors EA. Cognitive behavioral therapy improves physical function and fatigue in mild and moderate chronic fatigue syndrome: a consecutive randomized controlled trial of standard and short interventions. Front Psychiatry. 2021;12:580924. Article Summary in PubMed.
Kim DY, Lee JS, Park SY, Kim SJ, Son CG. Systematic review of randomized controlled trials for chronic fatigue syndrome/myalgic encephalomyelitis (CFS/ME) (correction published in: J Transl Med. 2020;18(1):492). J Transl Med. 2020;18(1):7. Article Summary in PubMed.
Davenport TE, Lehnen M, Stevens SR, VanNess JM, Stevens J, Snell CR. Chronotropic intolerance: an overlooked determinant of symptoms and activity limitation in myalgic encephalomyelitis/chronic fatigue syndrome? Front Pediatr. 2019;7:82. Article Summary in PubMed.
Larun L, Brurberg KG, Odgaard-Jensen J, Price JR. Exercise therapy for chronic fatigue syndrome. Cochrane Database Syst Rev. 2019;10(10):CD003200. Article Summary in PubMed.
Galeoto G, Sansoni J, Valenti D, et al. The effect of physiotherapy on fatigue and physical functioning in chronic fatigue syndrome patients: a systematic review. Clin Ter. 2018;169(4):e184–e188. Article Summary in PubMed.
*PubMed is a free online resource developed by the National Center for Biotechnology Information. PubMed contains millions of citations to biomedical literature, including citations in the National Library of Medicine's MEDLINE database.
Expert Review: May 4, 2021
Revised: May 4, 2021
Content Type: Guide

Catherine (Katie) Siengsukon
PT, DPT
Kenneth L. Miller
PT, DPT, MA, board-certified clinical specialist in geriatric physical therapy on behalf of APTA Geriatrics, an Academy of the American Physical Therapy Association