Physical Therapy Guide to Developmental Coordination Disorder
Developmental coordination disorder affects about 5% to 6% of school-aged children. More than 1 million children in the U.S. have the disorder. Children with DCD have a hard time with activities requiring movement skills and coordination, like riding a bike, playing sports, and skipping, running, or jumping. They may take longer to finish school tasks, such as handwriting or using objects like crayons. Physical therapists help children with DCD improve their muscle strength, coordination, and balance, and help them learn skills to better participate in school and childhood activities.
Physical therapists are movement experts. They improve quality of life through hands-on care, patient education, and prescribed movement. You can contact a physical therapist directly for an evaluation. To find a physical therapist in your area, visit Find a PT.
What Is Developmental Coordination Disorder?
Developmental coordination disorder is a motor skill disorder that causes problems with movement and coordination. It is not related to intelligence, autism, or physical disorders such as cerebral palsy.
DCD affects areas of the brain that learn or remember movements, so each motor task may seem new, no matter how many times it is repeated. Movements do not become automatic or feel normal or typical to the child. Children with DCD might struggle to imitate movements or learn new motor skills. They also have a hard time keeping up with the speed of movements compared with other children their age.
Boys are diagnosed with DCD slightly more often than girls. Children with DCD also may have other separate conditions, such as attention deficit hyperactivity disorder and speech/language impairments. They also may have self-esteem, behavior, and social and/or emotional problems. Because movement is so hard for them, they may develop poor health. They may have poor fitness, be overweight, and have heart disease due to inactivity.
DCD continues throughout a person's life. However, children and teens can improve their condition with the help of physical therapists and other health care providers. Children with DCD can learn to use new movement strategies. With guidance, they can find the right physical activities, sports, and job activities that lead to a positive and fulfilling life.
How Does It Feel?
Children with DCD feel that their body (arms and legs) will not move correctly. They want to throw a ball, ride a bike, or play a sport, but their body can't remember how to do those activities. Children with DCD may feel clumsy or awkward, and they may develop low self-esteem. They also may not want to take part in some activities with other children, including physical education classes in school.
Signs and Symptoms
Often, parents spot signs and symptoms of DCD in their child before anyone else. When they notice their baby is behind other children in movement skills, such as sitting up or learning to walk, they report these concerns to a health care professional. However, sometimes signs and symptoms of DCD are not caught until a child starts school. Teachers may see that the child cannot play at recess or in physical education classes in the same way that other children do. They also may observe that it takes the child longer to complete schoolwork. Children with DCD show a lack of interest in playing with other children.
Children with DCD may have difficulty when they try to:
Run, skip, jump, hop on one foot, do jumping jacks, or perform other physical activities.
Use hand-held objects such as crayons or scissors.
Throw or catch a ball accurately.
Follow directions for movements that involve more than one step. (When they make a mistake or can't do the next step, they will start all over again rather than with the most recent action taken.)
Know where their bodies are in space.
How Can a Physical Therapist Help?
Your child's first physical therapy session will begin with a complete evaluation. Your child's physical therapist may:
Take a full medical history. They will ask questions about the mother's pregnancy and the child's birth and development (the age the child sat up, crawled, walked), the general health of the child, and the parents' concerns.
Measure the child's height and weight.
Observe the child's movement patterns.
Assess the child's muscle strength, tone, flexibility, and balance.
Test the child's movement skills, such as skipping or walking in a straight line.
Screen for problems using their hands, vision, language skills, intellect, and other areas of development.
Refer you and your child to other health care providers as part of a team approach to address your child's needs.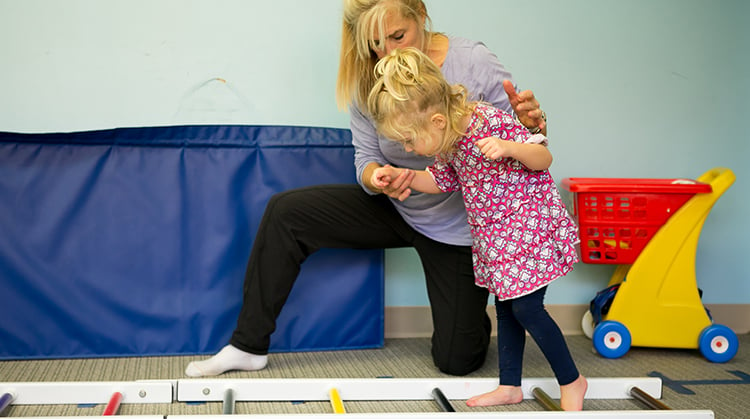 Physical therapists work with children with DCD to improve muscle strength, coordination, and balance. They also help them develop skills to improve their daily activities and quality of life. Your child's program may include treatments to:
Improve strength. Your physical therapist will teach you and your child exercises to increase muscle strength. They will identify games and fun tasks that improve strength, reduce obesity, and improve heart health.
Improve balance. Your physical therapist may teach your child exercises to help improve their balance, such as standing on one foot.
Improve body awareness. Your physical therapist might have your child play in obstacle courses to help them learn how to plan movements while having fun.
Improve skills through task-oriented and task-specific learning. Your child may learn fun new skills like bike riding. Your physical therapist may suggest making adjustments (like using a 3-wheeled bike or training wheels for bike riders) to keep your child safe as they learn new activities.
Can This Injury or Condition Be Prevented?
The exact cause of DCD is unknown. Research has shown that the disorder is linked to premature birth and low birth weight. Sometimes changes in the brain can be seen on brain scans ordered by a physician. One area of the brain, the cerebellum, may be affected. Research is ongoing.
If your child is diagnosed with DCD, a physical therapist can work with you and your child to help prevent added complications that might occur including:
Poor posture.
Walking with the feet turned in or out.
Delayed learning of movement skills.
Low self-esteem caused by being unable to keep up with peers.
Obesity or heart disease caused by inactivity.
What Kind of Physical Therapist Do I Need?
All physical therapists are prepared through education and experience to treat a variety of conditions or injuries. You may want to consider:
A physical therapist who has experience working with children with developmental disorders. Some physical therapists have a pediatric practice and will work with you and your child in your home or in the school or community environment.
A physical therapist who is a board-certified clinical specialist or who has completed a residency or fellowship in pediatric physical therapy. This physical therapist has advanced knowledge, experience, and skills that may apply to developmental conditions.
Using Find a PT, an online tool built by the American Physical Therapy Association to help you search for physical therapists with specific clinical expertise in your geographic area.
General tips when you're looking for a physical therapist (or any other health care provider):
Get recommendations from family, friends, or other health care providers.
When you contact a physical therapy clinic for an appointment, ask about the physical therapists' experience in helping children with developmental disorders.
During your first visit with the physical therapist, be prepared to describe your child's symptoms in as much detail as possible and say what makes your child's coordination worse.
The American Physical Therapy Association believes that consumers should have access to information that could help them make health care decisions and also prepare them for a visit with their health care provider.
APTA has determined that the following articles provide some of the best scientific evidence on developmental coordination disorder. The articles report recent research and give an overview of the standards of practice for treatment both in the U.S. and internationally. The article titles are linked either to a PubMed* abstract of the article or to free access of the full article, so that you can read it or print out a copy to bring with you to your health care provider.
U.S. National Library of Medicine, MedlinePlus. Developmental coordination disorder. https://medlineplus.gov/ency/article/001533.htm. Revised Oct. 11, 2018. Accessed Mar. 3, 2020.
Zwicker JG, Harris SR, Klassen AF. Quality of life domains affected in children with developmental coordination disorder: a systematic review. Child Care Health Dev. 2013;39(4):562–580. Article Summary in PubMed.
Zwicker JG, Missiuna C, Harris SR, Boyd LA. Developmental coordination disorder: a review and update. Eur J Paediatr Neurol. 2012;16(6):573–581. Article Summary in PubMed.
Tal-Saban M, Zarka S, Grotto I, Ornoy A, Parush S. The functional profile of young adults with suspected developmental coordination disorder (DCD). Res Dev Disabil. 2012;33(6):2193–2202. Article Summary in PubMed.
Asonitou K, Koutsouki D, Kourtessis T, Charitou S. Motor and cognitive performance differences between children with and without developmental coordination disorder (DCD). Res Dev Disabil. 2012;33(4):996¬–1005. Article Summary in PubMed.
*PubMed is a free online resource developed by the National Center for Biotechnology Information (NCBI). PubMed contains millions of citations to biomedical literature, including citations in the National Library of Medicine's MEDLINE database.
Expert Review: Feb 27, 2020
Revised: Feb 27, 2020
Content Type: Guide

Developmental Coordination Disorder
Venita Lovelace-Chandler
PT, PhD
Heidi Nelson
PT, DPT, DSc, board-certified clinical specialist in pediatric physical therapy, on behalf of the Academy of Pediatric Physical Therapy
You Might Also Like...