Physical Therapy Guide to Patellofemoral Pain
Patellofemoral pain is pain at the front of the knee, under or around the kneecap (patella). PFP is one of the most common types of knee pain experienced in the United States. It often occurs among athletes, active teenagers, older adults, and people who perform physical labor. Patellofemoral pain affects more women than men. It accounts for 20% to 25% of all reported knee pain. Physical therapists design treatment programs for people with PFP to help reduce pain and improve function.
You can contact a physical therapist directly for an evaluation. To find a physical therapist in your area, visit Find a PT.
What Is Patellofemoral Pain?
Patellofemoral pain is pain under or around the kneecap, at the front of the knee. PFP may occur after a sudden increase in activities like running or jumping. Research suggests that PFP results from activity levels that are increased faster than the knee can adapt. Other contributing factors to PFP may include:
Weakness of the thigh muscles.
Specializing in a single sport, which requires repeating the same movements again and again.
Certain hip and knee coordination patterns during running and jumping activities.
PFP does not go away on its own. If you have symptoms of PFP, it's important to seek care from a physical therapist so you can return to the activities that you enjoy.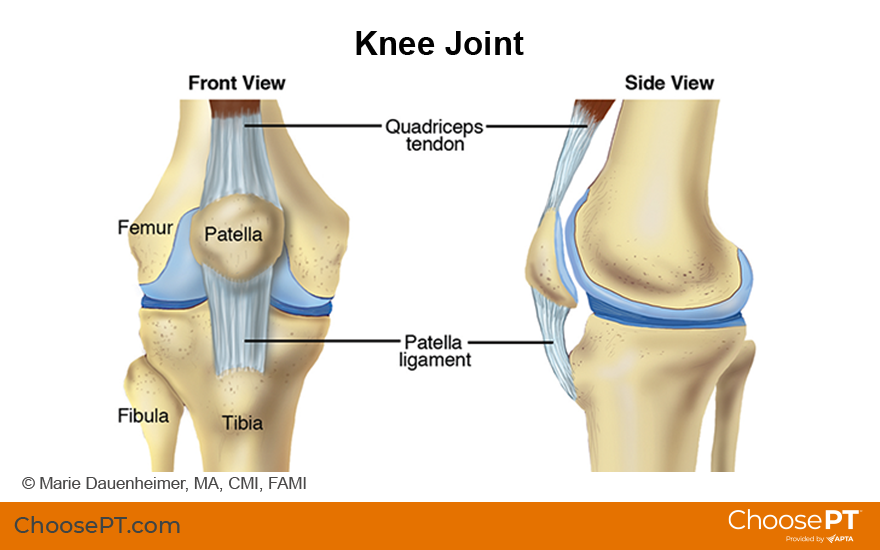 How Does It Feel?
People with PFP may experience pain:
When walking up or down stairs or hills.
When playing a sport.
With deep knee bending (squatting).
When walking on uneven surfaces.
With activity, but improving with rest.
After sitting for long periods of time with the knee bent.
How Is It Diagnosed?
Your physical therapist will review your health history and conduct a series of tests to evaluate you and your knee. PFP is diagnosed by analyzing any movement that causes pain, and ruling out other possible conditions.
Your physical therapist may analyze your walking and running patterns. They may test the strength of your hip and thigh muscles to find out if weakness is contributing to your pain. Medical imaging, such as an X-ray or MRI, is not helpful in diagnosing PFP. However, your physical therapist may consult with an orthopedic physician who may order imaging to rule out other conditions.
How Can a Physical Therapist Help?
If PFP is diagnosed, your physical therapist will develop an exercise and rehabilitation program just for you. Your program may include:
Strengthening exercises. Your physical therapist will teach you exercises to help strengthen the muscles around the hip and the knee itself. Research shows that this type of exercise therapy is the best approach to managing PFP.
Taping. Your physical therapist may teach you how to apply tape to your knee, which may improve your ability to perform exercises that would normally be painful. However, taping alone will not resolve PFP. It must only be used along with your exercise program.
Shoe inserts. Your physical therapist may recommend shoe inserts to help reduce your pain when exercising. But inserts alone, like taping, will not treat PFP. Your physical therapist will design an exercise program to fit your specific needs and goals.
Coordination training. Based on your activity level, your physical therapist may help retrain your hip and knee movement patterns to reduce your knee pain.
This type of training is effective for athletes, in particular, and may focus on movements like:
Stair climbing.
Squatting.
Running and jumping.
Cross-training guidance. Physical therapists help athletes and active people perform different movements (cross-training). This helps them stay active until they can return to a favorite activity.
Return to full activity. Your physical therapist will help guide a gradual return to your favorite activities, such as running and jumping, and will teach you good overall exercise habits to help maximize the health of your knee.
Treatments That Do Not Work for PFP
While these can be appropriate for the treatment of other injuries or conditions, the following do not work for PFP:
Quick fixes. "Passive" treatments like dry needling, ultrasound, laser, or electrical stimulation are not helpful for people with PFP. The most effective treatment for PFP is an exercise program that targets the hip and knee muscles.
Rest. If you are experiencing PFP, it is important to understand that rest only helps temporarily. Your pain will likely return when you go back to your normal activity. Rest is not helpful in the long term. A movement program guided by your physical therapist is your best treatment option.
Can This Injury or Condition Be Prevented?
Current research shows that a person's age, height, body weight, or foot alignment may not contribute to the risk of developing PFP at all. A knock-kneed posture also does not increase the risk of developing PFP.
However, a few preventive measures can be effective. To help reduce your risk of developing PFP:
Keep your thigh muscles strong.
Maintain good exercise habits.
Avoid rapid spikes in activity levels.
Participate in a variety of sports, rather than just repeating the same movements again and again.
What Kind of Physical Therapist Do I Need?
All physical therapists are prepared through education and experience to treat a variety of conditions or injuries including PFP. However, you may want to consider:
A physical therapist who is experienced in treating people with orthopedic, or musculoskeletal, problems.
A physical therapist who is a board-certified clinical specialist or who has completed a residency or fellowship in orthopedic physical therapy. This physical therapist will have advanced knowledge, experience, and skills that may apply to your condition.
While it may be tempting to seek quick fixes for your knee pain, there is no evidence that passive treatments work for persons with PFP. If you have PFP, seek care from a physical therapist who uses progressive exercise therapy for the treatment of this condition.
You can find physical therapists who have these and other credentials by using Find a PT, an online tool provided by the American Physical Therapy Association. You can search for physical therapists with specific clinical expertise in your geographic area.
General tips when you're looking for a physical therapist:
Get recommendations from family, friends, or other health care providers.
When you contact a physical therapy clinic for an appointment, ask about the physical therapist's experience in helping people with patellofemoral pain.
During your first visit with a physical therapist, you will be asked to describe your symptoms in as much detail as possible, and say what makes your symptoms worse. Here are some tips to prepare for your visit.
The American Physical Therapy Association believes that consumers should have access to information that could help them make health care decisions and prepare for a visit with their health care provider.
The following articles provide some of the best scientific evidence related to physical therapy treatment of patellofemoral pain syndrome. The articles report recent research and give an overview of the standards of practice both in the United States and internationally. The article titles are linked either to a PubMed* abstract of the article or to free access of the full article, so you can read it or print out a copy to bring with you to your health care provider.
Patellofemoral pain: treating painful kneecaps. J Orthop Sports Phys Ther. 2019;49(9):633. Free Article.
Willy RW, Hoglund LT, Barton CJ, et al. Patellofemoral Pain. J Orthop Sports Phys Ther. 2019;49(9):CPG1–CPG95. Free Article.
Neal BS, Lack SD, Lankhorst NE, Raye A, Morrissey D, van Middelkoop M. Risk factors for patellofemoral pain: a systematic review and meta-analysis. Br J Sports Med. 2019;53(5):270–281. Free Article.
Lack S, Barton C, Sohan O, Crossley K, Morrissey D. Proximal muscle rehabilitation is effective for patellofemoral pain: a systematic review with meta-analysis. Br J Sports Med. 2019;49(21):1365-1376. Free Article.
* PubMed is a free online resource developed by the National Center for Biotechnology Information. PubMed contains millions of citations to biomedical literature, including citations in the National Library of Medicine's MEDLINE database.
Expert Review: Nov 26, 2019
Revised: Nov 26, 2019
Content Type: Guide

Christopher Bise
PT, DPT, PhD
You Might Also Like...