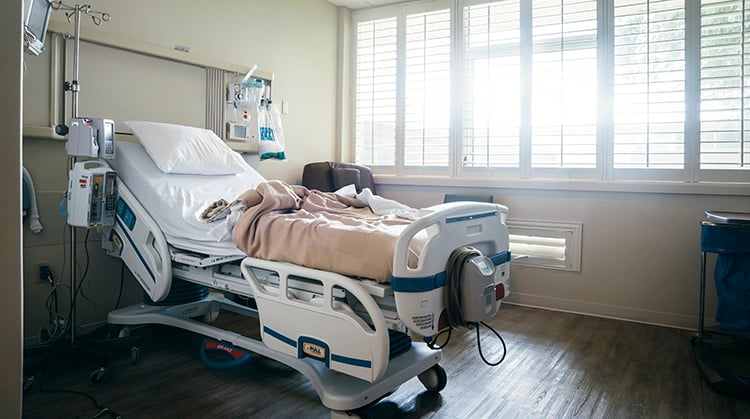 Hospital stays for sickness or injury can be overwhelming, emotionally and physically.
Depending on whether your stay is the result of sickness or injury, your care will be provided by a team of varied and specialized health care professionals such as doctors, nurses, physical therapists, occupational therapists, case managers, and social workers. A physical therapist will focus on helping you restore mobility and strength and manage pain.
Below are some tips to keep in mind to best manage your hospital stay, including how to stay informed and safe.
1. Plan early for your discharge from the hospital.
Review your discharge plan with your medical team, as soon as you are able.
Have a family member or friend with you when you are discharged from the hospital. They can be helpful when you receive the important discharge instructions given by your medical team.
Plan to have someone assist during your recovery period. Think about the barriers keeping you from returning to normal function (eg, stairs, meals, dressing/bathing, and doctor appointments) and what you anticipate that you will need for assistance.
Know what services you are eligible for beyond your hospital stay, depending on your condition and insurance benefits. This may include physical therapy at home or in an outpatient or private patient setting. Discuss these options with your medical team and insurance provider.
2. Stay active during your hospital stay.
Exercise, supervised by a physical therapist, can improve muscle strength and promote independence while hospitalized. It also can help prevent the formation of blood clots. Speak with your medical team about incorporating physical therapy into your care.
Walk around your hospital room or floor, with approval from your medical team. Getting out of bed can help your strength and overall well-being. A physical therapist can provide you with tips on safe ways to be active during your stay.
Take time out of your day to focus on deep breathing exercises. It will help keep your lungs clear and will help put your mind and body at ease.
3. Know your fall risk during your hospital stay.
Report your fall history to your medical team.
Ask for a falls risk assessment from a physical therapist. In addition to evaluating your balance, a physical therapist can help you identify any hazards you may have in and around your hospital room and any medications you are currently taking that may cause side effects that can lead to falls, such as dizziness.
If you wear glasses or specific shoes or use a walker or cane at home, ensure that you have them during your hospital stay.
4. Be your own advocate!
Take an active role in your health care to ensure that you receive the best care possible. If you cannot be your own advocate, ask a friend or loved one to serve as your advocate.
Maintain a current list of questions and address them with your medical team.
Keep with you a current medical history, list of medications, insurance card, and health care power of attorney or your living will. You or your advocate should be able to access these items as needed. These documents help the team provide the best care possible.
5. Know your role in preventing infection.
Infection control is crucial in preventing infections. It is okay to ask anyone in your room, including the health care team and your family, to wash their hands or wear gloves. It is reasonable to request that all equipment brought into your room to be used by you, (eg, wheelchair) has been properly cleaned.
You also should wash your hands multiple times a day, especially when you leave your room and touch objects in the hallway. Elevator buttons, rails on the wall, and countertops at the nurse's station can all carry germs; therefore, it is wise to wash your hands every time you return to your room.
Physical therapists are movement experts. They improve quality of life through hands-on care, patient education, and prescribed movement. You can contact a physical therapist directly for an evaluation. To find a physical therapist in your area, visit Find a PT.