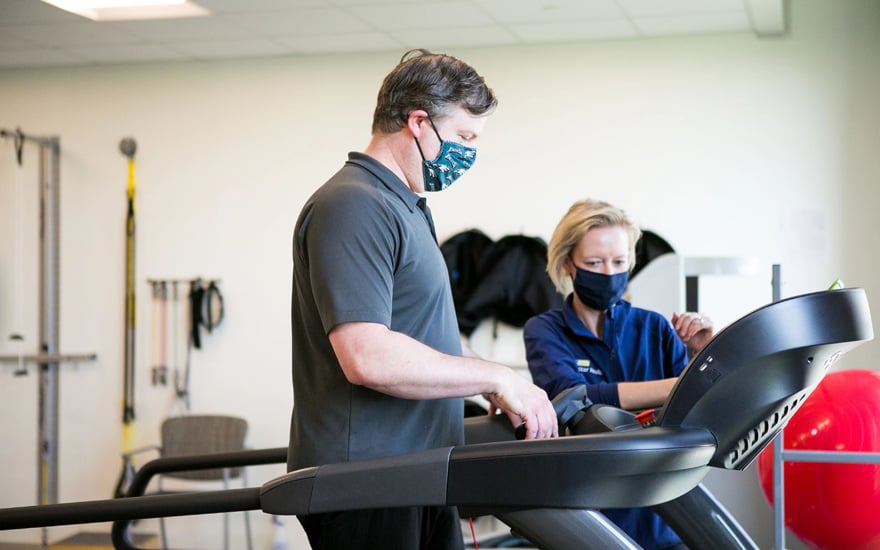 As the number of cases of long COVID has grown, it has become clear that for many people it takes a team of health care providers to support and guide them. Physical therapists are a vital part of this team.
Physical therapists help people manage the physical and functional symptoms of long COVID. Other members of the health care team may include a:
Doctor.
Occupational therapist.
Speech therapist.
Rehab psychologist.
Social worker.
Long COVID symptoms can linger for weeks or months after a person begins to recover. Symptoms can include:
Extreme fatigue.
Shortness of breath.
Racing heart.
Dizziness.
Muscle aches and pains.
Brain fog.
Problems completing everyday activities.
Poor exercise tolerance.
Physical therapists design treatment plans to address each person's symptoms, condition, and goals.
Consider these five reasons to include a physical therapist on your long COVID care team.
1. Physical therapists take your physical, mental, and emotional health into account.
Physical therapists care about your overall health and well-being. They can develop a personalized treatment plan to improve your physical symptoms and quality of life. They will work with you to address fatigue, respiratory function, and cardiac endurance. They also can communicate with your doctor if they feel you would benefit from seeing an occupational therapist, speech therapist, rehab psychologist, or social worker. The goal of physical therapy is to help you recover and return to your prior functional level.
2. Physical therapists can help you improve your quality of life through patient education.
Knowing how to conserve your energy and how to improve your sleep can be helpful in the early stages of your recovery. A physical therapist can help you find the balance between when it's best to rest and be active. They can identify the right kind and amount of physical activity to improve your tolerance for doing everyday activities.
3. Physical therapists can help you achieve a safe physical activity level to improve your fitness.
They develop prescribed exercise programs based on your specific symptoms and how your body responds to activity. They monitor your symptoms, blood pressure, heart rate, and oxygen levels when appropriate to ensure safety. They work with you to improve your level of physical activity and comfort level while doing exercises. They also recommend safe activity and wellness guidelines for you to follow on your own.
4. Physical therapists can help prepare you for return to work.
Working with a physical therapist can improve your overall conditioning and give you strategies to help you to do work tasks. They also can team with your doctor to address any concerns or additional care you may need to return to work safely.
5. Physical therapists use scientific evidence and guidelines to provide the best care and experience.
More research is being done on COVID-19 every day. Your physical therapist will consider these research findings and adjust your treatment plan as needed.
COVID-19 can damage the lungs, heart, and brain. Even people who had a mild case of COVID-19 can experience long COVID. The good news is you don't have to go through this journey alone. Physical therapists and physical therapist assistants will partner with you to address your symptoms.
Physical therapists are movement experts. They improve quality of life through hands-on care, patient education, and prescribed movement. You can contact a physical therapist directly for an evaluation. To find a physical therapist in your area, visit Find a PT.