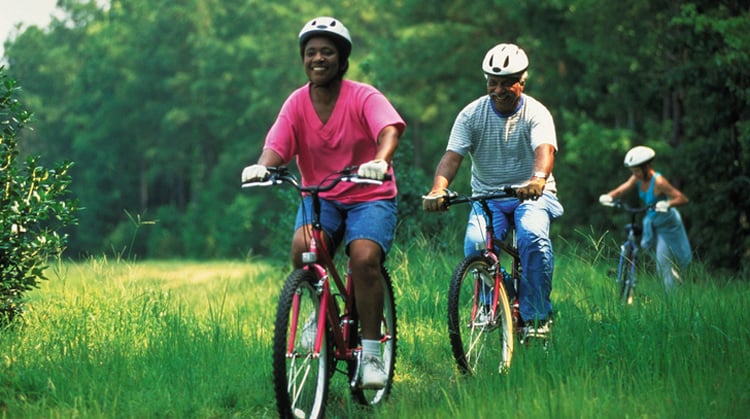 Research shows that physical activity may reduce the risk for infectious diseases. It also shows it may reduce the risk for severe illness and death related to infectious disease. Is the same true of COVID-19? A new study suggests the answer is yes.
A systematic review (British Journal of Sports Medicine) analyzed data from 16 studies. The studies, done between November 2019 and March 2022, included data on 1,853,610 adults. The average participant age was 53, and 53% were female. Three studies used gym attendance, sports activities, or devices that measure motion to assess physical activity. The rest of the data was self-reported by participants.
Researchers measured the link between physical activity and COVID-19 infection risk, and related severe illness and death. They found that the physically active had a lower risk for getting COVID-19. Also, those who did the recommended physical activity amounts had much lower risks for poor outcomes compared with those who were not active.
Here are the findings:
Compared with their inactive peers, physically active adults had:

11% lower risk of COVID-19 infection.
34% lower risk of severe illness (intensive care unit admission or ventilation use).
36% lower risk of hospital visits and admission.
43% lower risk of death.

People who had the greatest benefit (the lowest risk of getting COVID-19 or experiencing severe disease, hospitalization, or death) did either:

150 minutes of moderate-intensity physical activity per week.
75 minutes of high-intensity exercise per week.
Regular physical activity is one of the best things you can do for your health. It may even reduce your risk of getting COVID-19 or other infectious diseases. It also greatly reduces your risk for severe illness and death.
The findings "highlight the protective effects of engaging in sufficient physical activity." They also underscore physical activity's "potential benefits to reduce the risk of severe COVID-19." The authors acknowledge some limits to their review. The articles reviewed largely did not include the omicron variant. Also, the analysis used subjective physical activity assessments. Their findings, however, are further evidence that regular physical activity is vital to protecting you against COVID-19.
If pain, a chronic condition, or a physical limitation is holding you back, contact a physical therapist. They can help get you moving to reduce your risk of disease and enhance your fitness. It's never too late to get moving!
Physical therapists are movement experts. They improve quality of life through hands-on care, patient education, and prescribed movement. Choose more movement for better health. Choose physical therapy.
You can contact a physical therapist directly for an evaluation. To locate a physical therapist in your area, visit Find a PT.
Related Resources
Access additional Did You Know? pages.