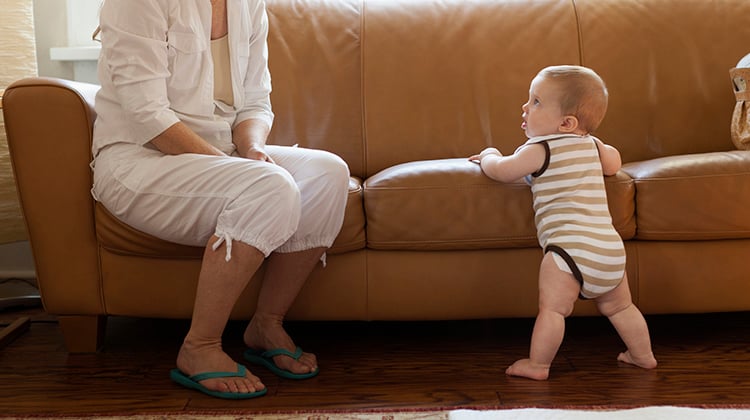 Encouraging daily physical activity and active play in infants and toddlers is important to develop strength, balance, coordination, movement planning skills, endurance, and flexibility. It allows your child to explore and promotes overall motor and brain development. Below are physical activity recommendations and five strategies from physical therapists for infants and toddlers, based on recent guidelines and best practices to promote health. Include these in your infant's or toddler's daily routines.
Recommendations for Physical Activity by Age

Infants (Birth to 12 Months)
Promote movement. Provide daily "tummy time" for infants under six months of age. According to a study in the journal Pediatrics, tummy time can help with a child's total development and encourages movement. Once your infant learns to scoot, crawl, or walk, allow them to freely explore both indoors and outdoors under your watchful eye.
Encourage movement experiences and active play for short periods several times a day. Provide an uncluttered play space for your infant. Make sure the area is safe and free of foot traffic, unsafe objects, shelving, and other hazards (like electrical cords or outlets).
Set aside time for your infant to interact with you and the environment. Play "peek-a-boo" or sing songs while you move your infant's arms and legs. Place toys suitable to your child's age in different areas near you. Place toys high or low, in front of or behind your child to encourage movement and different positions as they "seek" each toy. Talking to your infant throughout this kind of play and exploration also helps to develop early language skills.
Toddlers (12 to 36 Months)
Structured (caregiver led) activity. Toddlers should take part in at least 30 minutes of daily structured physical activity. Examples include an obstacle course or scavenger hunt with household items and playing hide and seek.
Unstructured activity. Toddlers should engage in at least 60 minutes (and up to several hours) per day of unstructured physical activity. Your child should not be inactive for more than 60 minutes at a time (except when sleeping). Free play allows your child to explore and be creative without preset rules. Examples include playing on their own with blocks or toys and on playground or backyard equipment.
Provide multiple opportunities to develop movement skills. Take your child to the nearest park, playground, or pool.


Five Strategies To Include Physical Activity in Your Child's Daily Routine


1. Laundry time.
Have your child push the laundry basket to their room. Roll socks into a ball and teach your child how to throw them into the laundry basket.
2. Couch time.
Have your child cruise along the edge of the couch. Place toys toward the back of the couch to encourage pulling to stand. Let your child climb on or off the couch with your supervision.
3. Gardening time.
Help your child hold the hose or a small watering can. Let them explore the garden with small garden tools, large kitchen spoons, or measuring cups. Place your infant on a large blanket or rug outside, so they can explore the sights and sounds of the outdoors.
4. Family time.
Turn up the tunes and have a dance party. Hold your child and move to the beat or let your child explore different movement patterns on their feet. Sing and demonstrate movement songs such as "Head, Shoulders, Knees, and Toes" or "I'm a Little Teapot," and see if your child imitates.
5. Community errands.
When you shop, run errands, or visit sites such as museums or zoos, and resist the urge to keep your toddler in a stroller the entire visit. Have them walk next to you for brief periods to increase physical activity. This will encourage them to explore and help keep them entertained.
Physical therapists are movement experts who improve quality of life through hands on-care, patient education, and prescribed movement.
If you have concerns that your child is not developing age-appropriate movement skills, a physical therapist can evaluate your child and work with you to help them achieve their unique potential.
You can contact a physical therapist directly for an evaluation. To find a physical therapist in your area, visit Find a PT.
APTA's Academy of Pediatric Physical Therapy authored this content for information purposes only. It is not intended to represent the position of APTA Pediatrics.