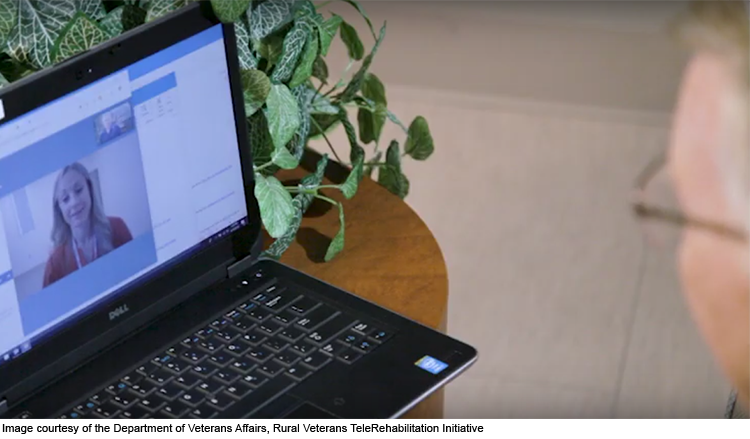 Have you ever wanted your physical therapist to teach you how to move better in your home? Is it hard to get to your appointments?
Telehealth — a live, one-on-one video appointment with your physical therapist— may be a solution. Telehealth is becoming a popular option that enables patients to see and talk to their health care providers. A growing number of physical therapists are offering telehealth services as a part of an overall treatment plan. This allows you to get the help you need in the comfort and convenience of your home.
Here are a few reasons to consider telehealth physical therapy:
1. Accessibility.
Telehealth can help you stay connected with your physical therapist after initial in-person visits. Telehealth may also make it possible for you to connect with a physical therapist who is experienced in treating people with your condition or who is a board-certified clinical specialist, who may not be near you. It also can help people who live in areas where access to physical therapy is lacking.
2. Home safety.
If falling is a concern, a virtual telehealth appointment with your physical therapist is an opportunity to discuss ways to improve the safety of your home. They also can discuss what you should do if you fall.
3. Personalized care.
During a private telehealth visit, you will work one-on-one with your physical therapist, without distractions. You also can involve family members or caregivers in your appointment, if you like.
4. Success rates.
Patients who take part in telehealth physical therapy are more likely to stick to their home exercise programs. Your physical therapist can provide you a safe and effective home exercise program to do at home based on your specific needs and goals. Sticking to your prescribed exercise program is a vital part of your long-term health.
5. Time savings.
There's no waiting room. And after your telehealth appointment, you can quickly get back to what you were doing at home without having to spend time on the road.
6. Transportation.
No need to drive! A telehealth appointment reduces the burden of travelling to appointments. Telehealth works well for parents with a child at home, caregivers concerned about the physical demands of transporting their loved one, and those who don't have easy access to transportation.
The majority of patients who have used telehealth physical therapy were satisfied with their experience and would do it again. Patients expressed feeling connected and supported by their telehealth physical therapist. Having this support at home while going through a rehab program is valuable. Studies show that telehealth physical therapy can result in equal or better outcomes.
What are the considerations for telehealth physical therapy?
Telehealth may or may not be available in your area. And, not all insurance providers cover telehealth. You likely will need to meet in person with your physical therapist for an initial evaluation and to determine if telehealth physical therapy is the right approach for you.
Who can participate in telehealth physical therapy?
People of all ages and who have a variety of symptoms and medical conditions may be candidates for telehealth. A few examples of conditions for which a physical therapist can help you virtually include:
Postoperative care.
Chronic pain management.
Cancer rehabilitation.
Other conditions your physical therapist determines are appropriate for telehealth.
Practice laws governing the use of telehealth services vary by state. Check with your health care insurance provider to see if telerehab services are covered under your plan.
What do I need to participate in a telehealth physical therapy visit?
There is no training required for patients to take part in telehealth. Typically, you will need an email address and access to a computer or device that has a video camera and microphone. If your physical therapist offers telehealth services, they will supply more details and instructions. When you connect with your physical therapist remotely, make sure your appointment meets your needs.
Physical therapists are movement experts. They improve quality of life through hands-on care, patient education, and prescribed movement. You can contact a physical therapist directly for an evaluation. To find a physical therapist who offers telehealth services use the American Physical Therapy Association's Find a PT tool. Select your state then type "telehealth" in the Practice Focus field. For help finding a physical therapist who offers telehealth and participates in your health care plan, contact your health insurance company.
Additional Resources: