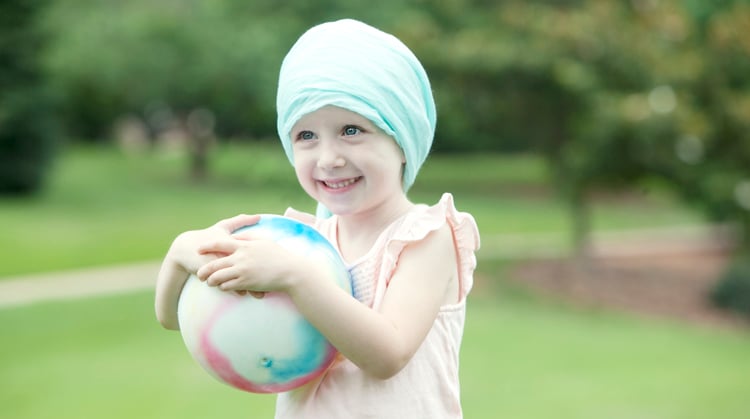 Around 10,500 children in the United States under age 15 are diagnosed with cancer each year. The good news is treatments have become more effective. Now, 84% of children with cancer go into remission. However, cancer and cancer treatments can take a toll on the body and lead to physical problems. These problems can limit physical activity, which is important for anyone with cancer. Some children will need help to get back to full physical function.
The Centers for Disease Control & Prevention recommends 60 minutes per day of moderate to vigorous exercise for healthy children. Being physically active can be a challenge for children with cancer.
It is important to encourage children with cancer to stay as active as possible. The American Cancer Society recommends people undergoing cancer treatment stay physically active. The right amount of exercise can decrease cancer-related fatigue. It also can keep your body strong so you can participate in daily activities at home and school. Physical activity also helps people with cancer reduce or prevent:
Stress.
Pain.
Weight gain.
Brain fog.
Bone density loss.
Here are a few more benefits of physical activity for kids with cancer or childhood leukemia:
1. Maintain heart and lung health.
Physical activity improves overall health and fitness by improving heart and lung function. Children with cancer who stay active will have more energy for daily home and school activities and playing with friends.
2. Keep and improve muscle strength.
Physical activity builds strong muscles so your child can move more independently. Your child will need strong muscles to get in and out of bed, climb into the car, and use stairs.
3. Improve sleep.
Children who are more active sleep better at night. Exercise also enhances sleep-wake rhythms to reduce cancer-related fatigue. In addition, children who are more awake and alert have fewer emotional and behavioral issues. They do better in school and participate more effectively in daily routines.
4. Manage constipation.
The effects of cancer and cancer treatment can lead to constipation. Physical activity is one of the first recommended treatments for constipation in children with cancer.
5. Promote joint and muscle health.
Some children may experience joint and muscle tightness. Children who are physically active can keep and improve their flexibility and muscle strength. This helps them run, jump, skip, hop, and play.
6. Improve balance and coordination.
Physical activity helps children with cancer maintain balance and coordination. Good balance and coordination help children sit at a desk for school activities or get in and out of the bathtub, car, or school bus. Good balance and coordination also allow your child to do other physical activities that are good for their overall health.
7. Improve emotional well-being.
Physical activity can help boost your child's emotional well-being and reduce anxiety linked to cancer treatments. Physical activity improves quality of life.
Exercise is safe and feasible for pediatric patients with cancer who have medical clearance. Children with cancer can benefit from a treatment approach that includes physical therapy. If your child has trouble being active during or after cancer treatment, a physical therapist can help.
Pediatric physical therapists can help children achieve or maintain an appropriate physical activity level during and after cancer treatment. They help children with cancer and their families manage the effects of cancer and treatments, achieve the many health benefits of movement, and meet goals while having fun!
Pediatric physical therapists design treatment plans that provide proper exercise dosing specific to your child's age and condition. They also motivate kids to take part in safe activities based on their cancer treatment phase, expected side effects, and infection risks.
Physical therapists are movement experts. They improve quality of life through hands-on care, patient education, and prescribed movement. You can contact a physical therapist directly for an evaluation. To find a physical therapist in your area, visit Find a PT.
The APTA Academy of Pediatric Physical Therapy contributed to this consumer resource. It is for information purposes only and is not intended to represent the position of APTA Pediatrics.