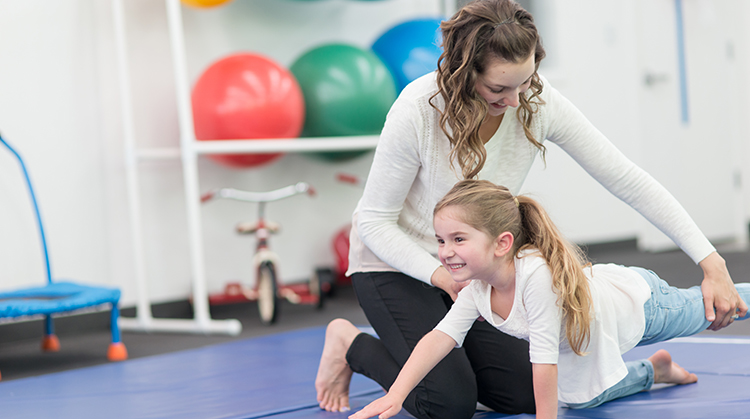 Nobody wants to see a child in pain. We most often see it after an accident, injury, or during an illness, but what about when it continues and does not resolve with time or simple treatments?
Chronic pain can be a complex biological, psychological, and social condition that needs individualized treatment. Left untreated, chronic pain in children can result in a higher risk of pain and psychological disorders later in life. Physical therapists work in collaboration with other pediatric specialists to help children understand and treat their pain, and ultimately restore their activity and quality of life to the highest possible levels.
Physical therapists are movement experts who improve quality of life through hands-on care, patient education, and prescribed movement. You can contact a physical therapist directly for an evaluation. To locate a physical therapist in your area, visit Find a PT.

What Is Chronic Pain?
Chronic pain is pain that lasts for more than 3 months. For children, chronic pain can affect their ability to be active, leading to weakness and poor endurance. It also can cause a child to withdraw from play, sports, school, or other social activities, all of which are important to a child's growth and development and, in their absence, can lead to social isolation and anxiety.
Causes
The most common pediatric chronic pain syndromes include:
Abdominal pain
Headaches
Amplified musculoskeletal pain syndrome
Complex regional pain syndrome
Widespread pain
Overuse syndromes
Skeletal defects
Back pain
Cancer
Rheumatoid diseases
How Physical Therapy Can Help
Physical therapists play a vital role in the treatment of pediatric chronic pain conditions. A physical therapist will work with you to tailor a treatment plan specific to your condition, needs, and goals, which may include manual therapy, prescribed exercise, and patient education. Goals will be individualized to each child's life and activities, and may include:
Become more independent
Decrease pain
Increase participation and energy levels with sports and recreational activities, school and learning, relationships, and all play activities
Improve mobility and gaining independence
Improve posture
Improve quality of life
Improve sleep patterns
Move the focus away from pain and learn strategies to cope with pain that can't be alleviated
Return to prior functionality
Renew self-esteem; build confidence
Reduce use of assistive devices
Strengthen everyday activities
Strengthen muscles
Working with Families
Families carry a lot of the stress caring for and helping children with chronic pain. Physical therapists not only set goals with the children but with the families to ensure continuity in achieving each child's goals.
Additional Resources