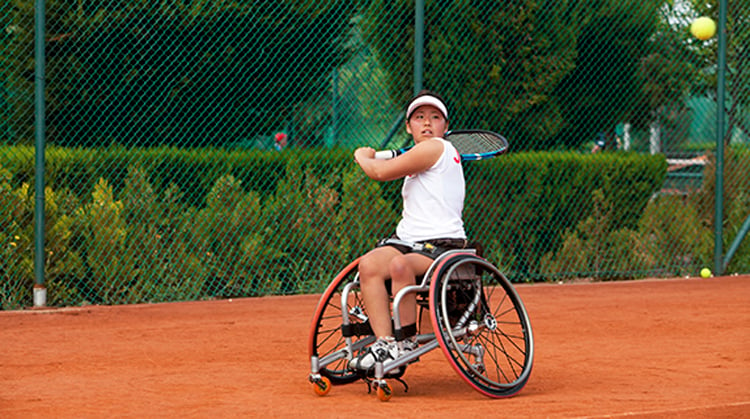 An estimated 56.7 million people in the United States (19%-20%) have a disability. Staying active while living with a disability is important for your health. Physical activity can help you strengthen your heart, muscles, and bones and improve coordination. It also can help you feel better about yourself.
Everyone — regardless of chronic conditions or ability — can achieve more movement. Regular physical activity can prevent or improve many chronic conditions. These include heart disease, diabetes, obesity, depression, and some cancers. Adaptive sports and recreation programs offer people with disabilities ways to take part. As a result, anyone can enjoy health, leisure, social, and competition benefits.
Check with your doctor or physical therapist before starting any exercise or adaptive sport. They can make sure you are healthy enough. They also can recommend the kind and amount of physical activity that is safe for you. If you need help, a physical therapist can evaluate you. A physical therapist can design an exercise treatment program specific to you. The goal is to help you enjoy the many health benefits of regular physical activity.
Physical therapists are movement experts. They improve quality of life through hands-on care, patient education, and prescribed movement. You can contact a physical therapist directly for an evaluation. To locate a physical therapist in your area, visit Find a PT.
Here are some adaptive sports to consider:
Cycling
The most common way for people with disabilities to cycle is with the use of modified bikes. Tricycles, modified with special seats and handlebars, provide the best stability. If pedaling a bike or staying upright is hard, try hand cycling while seated or reclined. Tandem cycling is a safe way for people with visual or hearing problems to enjoy cycling. Modifying cycles also can allow another person to push the cycle if needed.
Related groups: Wheelchair Sports Federation, Disabled Sports USA, US Handcycling Federation, and U.S. Deaf Cycling Association
Search the internet for adaptive bikes and cycling programs. You can find information about cycling activities and learn about this growing competitive sport.
Golf
Adaptive golf can be played standing or sitting. In addition, adaptive golf carts can help stabilize the body while swinging the club. Golf clinics can teach people with disabilities about adaptive equipment. They also can teach you how to play golf if you have limb loss, paralysis, problems seeing or hearing, and emotional or cognitive problems.
Related groups: National Amputee Golf Association, American Disabled Golf Association, and Golf 4 the Disabled
Horseback Riding
Therapy using horses can improve physical, social, cognitive, sensory, and emotional well-being. Look for programs that offer:
Hippotherapy.
Therapeutic horseback riding.
Therapeutic horsemanship.
Equine-assisted therapy.
Certified instructors and therapists lead many of these programs.
Related groups: PATH International
Paddling
Paddling sports include canoeing, kayaking, rowing, and rafting. A canoe or kayak, modified for special positioning and grip, can make it possible to join outings. Canoes, tandem kayaks, and rafts allow people of all abilities to take part in paddling sports together.
Related groups: The American Canoe Association, and the book, "Canoeing and Kayaking for People With Disabilities."
Sitting Volleyball
In sitting volleyball, players sit on the ground. The game follows the same rules as stand-up volleyball, but with a shorter net and smaller court. However, at least one buttock must remain in contact with the floor when a player contacts the ball.
Related groups: U.S. Club Sitting Volleyball and U.S. Paralympics Sitting Volleyball
Snow Skiing
Snow skiing can be done while sitting or standing. People with all types of disabilities can enjoy skiing with help or adaptive equipment. For example:
People with less strength, stability, and coordination, can ski seated on one or two skis.
Handheld outriggers (mini skis on the end of poles) can help with stability and steering while sitting or standing.
Tethers and tandem skis allow you to ski with the help of another person.
Trained guides can ski with a visually impaired skier and call out instructions.
Related groups: Disabled Sports USA
Swimming
Adaptive swimming includes all swim strokes and distances. People with disabilities of all kinds can participate. Adaptive swimming does not require special equipment and can be done with very few modifications.
Related groups: U.S. Paralympic Sports Club
Tennis
Tennis uses adaptive equipment for mobility, such as a wheelchair. Rules get modified based on the type of disability. This allows a stand-up player to compete against or on the same team as a player in a wheelchair.
Related groups: Let's Roll Wheelchair Tennis
Wheelchair Basketball
Wheelchair basketball is accessible to those with a variety of physical disabilities. The same rules and standards of basketball apply, with a few variations for dribbling and contact from the wheelchair.
Related groups: National Wheelchair Basketball Association
Other Adaptive Sports
Other activities and sports for people with disabilities include:
Archery.
Bocce.
Bowling.
Fencing.
Fishing.
Hunting.
Lacrosse.
Shooting.
Pool.
Rugby.
Sailing.
Scuba.
Softball.
Table tennis.
Water skiing.
A physical therapist can help with modifying equipment and tell you which activities might be best for you.
Many groups provide opportunities for anyone with a disability to enjoy sports and recreation, such as:
Related Resource