Listening Time — 22:12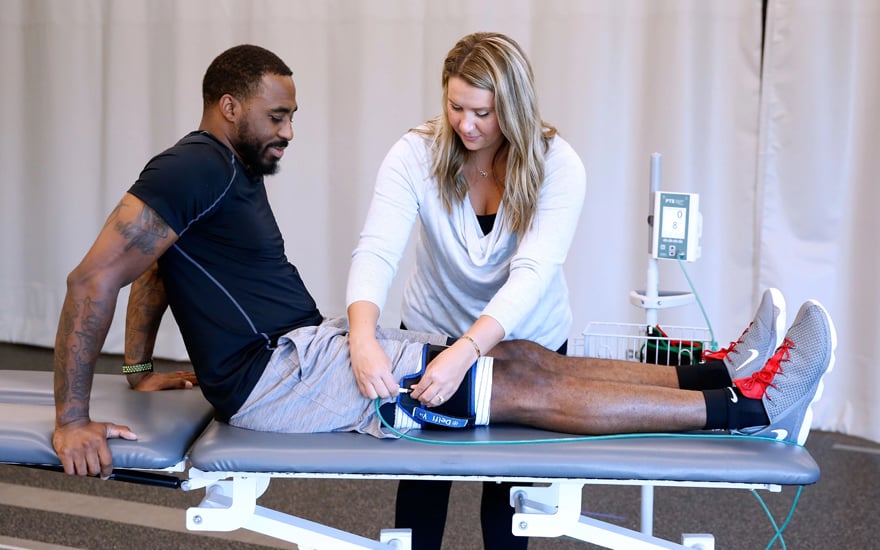 Improving strength is a major component of physical rehab after injury. But the injury itself often stands in the way of the muscle building needed to recover.
While working at Brooke Army Medical Center physical therapist Johnny Owens treated wounded warriors. They needed to improve strength in injured limbs. And they needed to do so without further harming vulnerable joints or soft tissue. So he and his colleagues began using a new treatment called blood flow restriction training.
BFR allows patients to make greater strength gains while lifting lighter loads. It also reduces the overall stress on the limb. BFR involves applying a tourniquet to an injured limb to partially restrict blood flow.
In this episode, Owens describes how BFR training works. He also shares BFRs potential within health care, and discusses ongoing research.
Download the podcast on iTunes or listen below:

Johnny Owens, PT, MPT, is the former chief of human performance optimization at the Center for the Intrepid, San Antonio Military Medical Center. For 10 years, he treated service members with severe muscle, bone, and joint trauma. His successes include using regenerative medicine for soft tissue loss and the Return to Run Clinical Pathway program. He has applied BFR training since 2012, helping more than 300 patients achieve major strength recovery. Owens has been published extensively in the peer-reviewed journals. He has been featured on 60 Minutes, NPR, the Discovery Channel, ESPN, and in Time Magazine. He is the current owner of Owens Recovery Science in San Antonio, Texas.