Numerous studies have shown that physical therapy is effective in helping manage osteoarthritis of the knee. A new study provides yet another reason to choose or recommend physical therapy for OA of the knee over steroid injections — the overall value it delivers.
OA of the knee is the most common type of osteoarthritis, affecting over 12 million people ages 65 and older. The condition causes pain, stiffness, and limited function.
Choosing physical therapy for OA of the knee outperforms steroid injections. In addition to saving health care dollars, it helps patients to:
Reduce pain and increase strength.
Avoid invasive steroid injections and surgery.
Increase mobility, balance, strength, and flexibility.
Benefit from aerobic activity and endurance training that supports healthy aging.
Learn more about physical therapist treatment in the Physical Therapy Guide to Knee Osteoarthritis.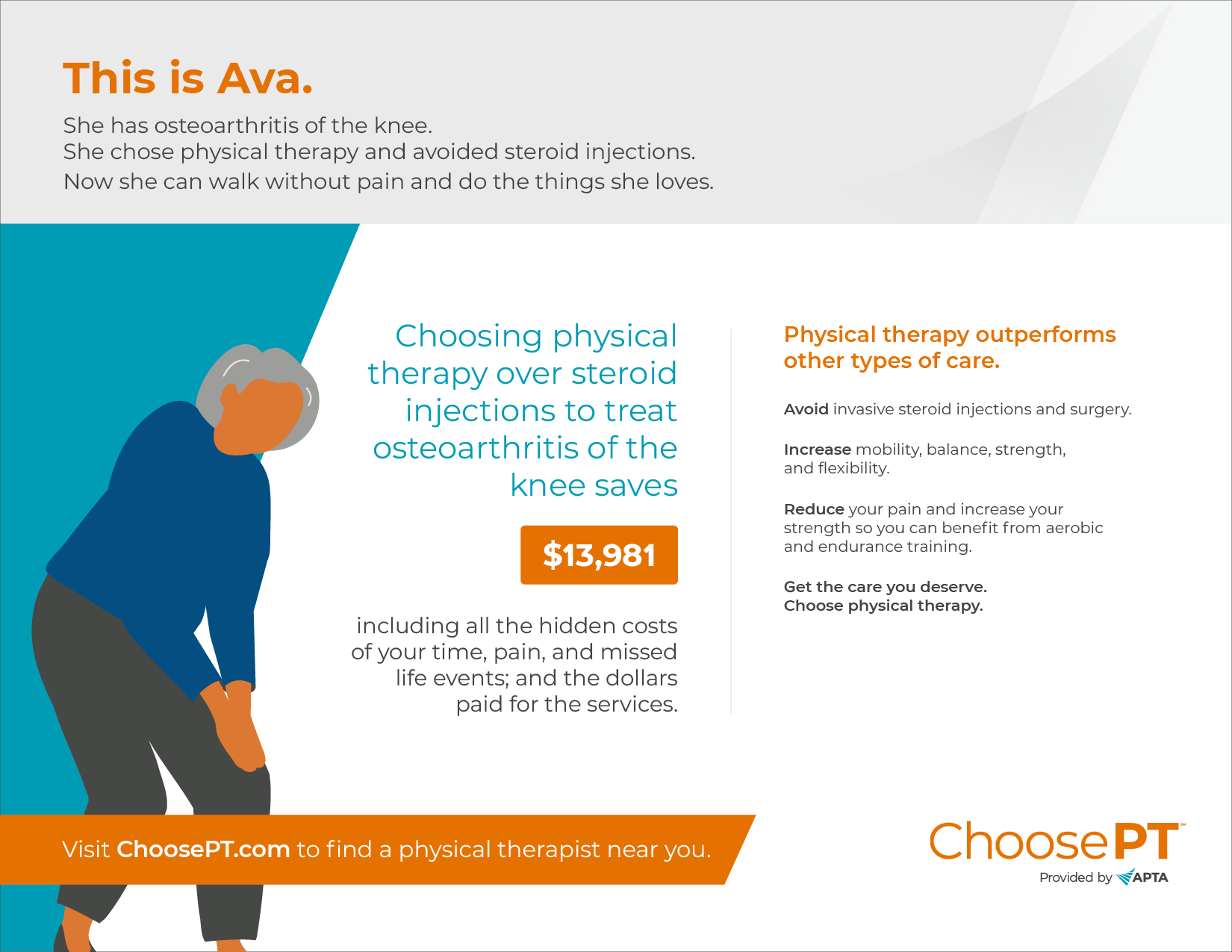 Researchers calculated the economic impact of choosing physical therapy for OA of the knee over steroid injections. They found that doing so saves $13,981, including all the hidden costs of your time, pain, missed life events, and the dollars paid for services. This graphic summarizes their analysis, outlined in an easy-to-read paper covering this and seven other conditions.
Health care dollars are finite. This research can help to influence policies that better enable patient access to treatment options. It also may lead to health plan coverage that is both clinically effective and value-based. Patients and the health care system benefit when our health care dollars go further.
Physical therapists are movement experts. They improve quality of life through hands-on care, patient education, and prescribed movement. You do not need a referral* to see a physical therapist in the United States. Visit Find a PT to search for a physical therapist in your area.
*Your insurance policy, corporate policies, or state practice laws may still require a referral. Some states may limit the type or duration of treatment without a referral.
View additional Did You Know? articles on all eight conditions on our Value of Physical Therapy page.
Additional Resources