Physical Therapy Guide to Femur Fracture
A femur fracture is a break, crack, or crush injury of the thigh bone. It is sometimes referred to as a hip fracture or broken hip when the break is in the upper part of the bone near the hip joint area. Femur fractures that are simple, short cracks in the bone usually do not require surgery. However, fractures that break completely through the bone, or cause the bone to be displaced or crushed, require immediate surgery.
Physical therapists are part of a team of health care professionals who help people recover from femur fractures. Physical therapy may take place in a hospital, in a skilled nursing facility, in the person's home, or in an outpatient physical therapy clinic.
Physical therapists are movement experts. They improve quality of life through hands-on care, patient education, and prescribed movement. You can contact a physical therapist directly for an evaluation. To find a physical therapist in your area, visit Find a PT.
What Is a Femur Fracture?
A femur fracture is a break in the thigh bone (femur). The femur can be fractured in one of these three areas:
Head/neck of the bone (near the hip and pelvis).
Main shaft of the bone.
Lower end (near the knee).
Injury commonly occurs when a high-force blow hits the thigh bone. The most common causes of femur fracture are:
High-speed trauma, such as a motor vehicle or motorcycle accident.
A fall from a high place.
Injury during extreme or contact sports.
A preexisting bone disease that weakens the bone, such as a tumor, Paget disease, bone cyst, or osteoporosis.
How Does It Feel?
A femur fracture may cause extreme pain in the upper leg area or hip area. It also may cause lesser pain in the buttocks, knee, thigh, groin, or back.
You may experience:
Difficulty walking, or inability to walk, move the leg, or stand.
Swelling in the hip area.
Severe bruising in the area of the fracture, or a change in the color of the skin.
Muscle spasms in the thigh.
Numbness and tingling in the thigh or leg.
Change in the shape of the thigh bone (deformity).
Bleeding, if the bone breaks through the skin.
Caution: A fractured femur may be life-threatening. Death can occur following a femur fracture due to complications such as blood clots, pneumonia, or infection. Symptoms of life-threatening injury include:
Localized swelling in the legs or groin, with redness and tenderness to touch.
Fever, sweats, chills, or excessive fatigue.
Chest pain and/or difficulty breathing.
Heavy or uncontrollable bleeding.
A bone fragment protruding through the skin.
Confusion or loss of consciousness.
If you have any of these symptoms, call 911 to seek urgent medical attention.
How Is It Diagnosed?
A femur fracture is a serious injury. It is usually diagnosed by a doctor in an emergency room. An X-ray or CT scan will help confirm the fracture. Fractures can range from a simple crack to a severe break in which the femur breaks into pieces that can separate or even pierce through the skin.
Treatment usually involves immediate admission to the hospital, and possible surgery. Extensive treatment in the hospital and physical therapy are also typically required. The majority of people who suffer a femur fracture will need specialized treatment in a skilled nursing or rehabilitation facility.
Full recovery from a femur fracture can take anywhere from 12 weeks to 12 months. But you are not alone. Most people experiencing a femur fracture can begin walking with the help of a physical therapist in the first day or two after injury and/or surgery.
How Can a Physical Therapist Help?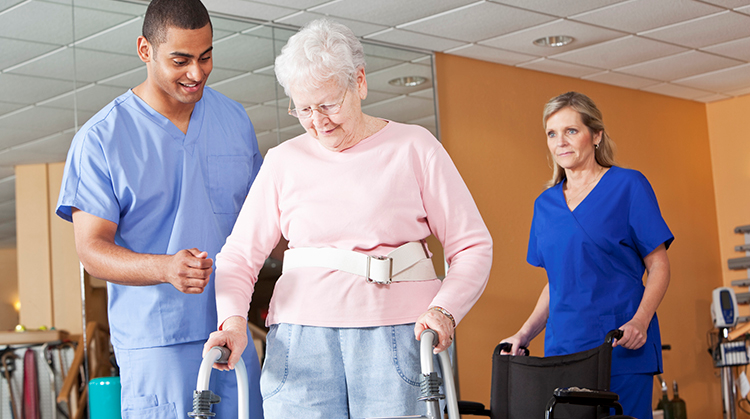 The doctor in charge of your care will determine when the time is right for you to see a physical therapist to assist you with further recovery. Your physical therapist will design a specific treatment program to restore function and help you return to activities of daily living.
Physical therapists support your recovery by helping you:
Reduce pain.
Improve the movement in your leg, hip, and back.
Strengthen your muscles.
Improve your standing balance and ability to walk.
Return to the level of activity that you enjoyed before the break. This may include a return to sports like tennis, golf, or bike riding for people who were living a physically active lifestyle.
Your treatment program, based on your unique condition and goals, will be designed to help you return to your regular activities and may include:
Use of an assistive device. At first, your physical therapist may prescribe the use of an assistive device, such as a walker or crutches, and teach you how to use it. Many femur fractures require patients to avoid putting any weight on the broken leg to allow time for the bone to heal. Some people may be allowed to put a small amount of weight on the leg. Each person's recovery is different. Older adults and people with other health conditions may need to first use a wheelchair.
Manual therapy. Your physical therapist will provide manual (hands-on) therapy to gently help you start to regain motion. They may perform gentle exercises (such as leg movements) that you can't perform yourself at first.
Strengthening exercises. Your physical therapist will design an exercise program to help you regain movement and strength. You will learn and perform your exercises during your physical therapy sessions and continue them at home when appropriate. Your physical therapist will adjust your exercise program as you improve.
The First 24-48 Hours
Following injury or surgery, your physical therapist will help you:
Get up out of bed to stand and walk. Early movement can help prevent blood clots and other complications.
Learn to safely use a walker or crutches as ordered by the surgeon or physician.
Learn safe movements and exercises to keep the muscles in your entire lower leg moving.
After the First 48 Hours
Your doctor will determine when a more intense physical therapy program is right for you. Whether in the hospital, an inpatient rehabilitation facility, an outpatient clinic, or at home, a physical therapy treatment program will be designed to help you:
Reduce pain. Your physical therapist may use different types of treatments to control and reduce your pain. These may include:
Ice and heat.
Gentle electrical stimulation.
Taping.
Exercises.
Skilled manual therapy techniques.
Improve motion. Your physical therapist will choose specific activities and treatments to help restore normal movement in your leg and hip. These might start with passive motions that your physical therapist applies to your leg and hip joint. They will help you progress to active exercises and stretches that you perform yourself.
Improve strength. Certain exercises will benefit your healing at each stage of recovery; your physical therapist will design a personalized treatment program just for you. They will choose and teach you the proper exercises that will restore your strength, power, and agility. These may include using weights, elastic bands, weighted pulleys, cardio machines, and weight machines.
Return to activities. Your physical therapist will collaborate with you to decide on your recovery goals, including a return to work and sport. They will design your treatment program to help you reach your goals in the safest, fastest, and most effective way possible. Your physical therapist will use equipment, manual techniques, exercises, and work retraining activities. If a return to sport is desired, your physical therapist will work with you on sport-specific techniques and drills to help you achieve your goals.
Prevent future reinjury. Your physical therapist will recommend a home-exercise program to help you strengthen and stretch the muscles around your hip, upper leg, and core to help prevent future problems. These may include strength and flexibility exercises. These exercises will aid the return of balance and are essential to reduce the risk of falls, especially in older adults.
Can This Injury or Condition Be Prevented?
Femur fractures that occur in car accidents, extreme sports, and/or from a high elevation are often outside your control. However, there are some things that you can control to reduce your risk of experiencing a femur fracture, including the following:
Avoid high-speed driving, when using a motorcycle or other motor vehicle.
Do not drive while under the influence of alcohol or drugs.
Wear a seat belt while in a car.
Maintain appropriate nutrition to decrease your risk of osteoporosis.
Mind all safety protocols and use appropriate safety equipment when participating in contact or extreme sports.
Maintain your strength and balance to reduce the risk of falls.
Strengthen your bones and muscles with physical activities that are considered weight-bearing or resistance exercises.
What Kind of Physical Therapist Do I Need?
All physical therapists are prepared through education and experience to treat femur fractures. However, you may want to consider:
A physical therapist with experience treating people with femur fractures. Some physical therapists have a practice with an orthopedic focus.
A physical therapist who is a board-certified orthopedic clinical specialist. This physical therapist has advanced knowledge, experience, and skills that may apply to your condition.
You can find physical therapists who have these and other credentials by using Find a PT, the online tool built by the American Physical Therapy Association to help you search for physical therapists with specific clinical expertise in your geographic area.
General tips when you're looking for a physical therapist (or any other health care provider):
Get recommendations from family, friends, or other health care providers.
When you contact a physical therapy clinic for an appointment, ask about the physical therapists' experience in helping people who have femur fractures.
Be prepared to describe your symptoms in as much detail as possible, and say what makes your symptoms worse.
The American Physical Therapy Association believes that consumers should have access to information that could help them make health care decisions and also prepare them for their visit with their health care provider.
The following articles provide some of the best scientific evidence related to physical therapy treatment of a femur fracture. The articles report recent research and give an overview of the standards of practice both in the United States and internationally. The article titles are linked either to a PubMed* abstract of the article or to free full text, so that you can read it or print out a copy to bring with you to your health care provider.
Willimon SC, Johnson MM, Herzog MM, et al. Time to return to school after 10 common orthopedic surgeries among children and adolescence. J Pediatr Orthop. 2019;39:322-327. Article Summary in PubMed.
Wu J, Mao L, Wu J. Efficacy of balance training for hip fracture patients: a meta-analysis of randomized controlled trials. J Orthop Surg Res. 2019;14;83. Article Summary in PubMed.
Tedesco D, Gibertoni D, Rucci P, et al. Impact of rehabilitation on mortality and readmission after surgery for hip fracture. BMC Health Serv Res. 2018;18:701. Article Summary in PubMed.
Auais MA, Eilayyan O, Mayo NE. Extended exercise rehabilitation after hip fracture improves patients' physical function: a systematic review and meta-analysis. Phys Ther. 2012;92:1437–1451. Article Summary in PubMed.
Hung WW, Egol KA, Zuckerman JD, Siu AL. Hip fracture management: tailoring care for the older patient. JAMA. 2012;307:2185–2194. Article Summary in PubMed.
Laflamme GY, Rouleau DM, Leduc S, et al. The timed up and go test is an early predictor of functional outcome after hemiarthroplasty for femoral neck fracture. J Bone Joint Surg Am. 2012;94:1175–1179. Article Summary in PubMed.
Sipilä S, Salpakoski A, Edgren J, et al. Promoting mobility after hip fracture (ProMo): study protocol and selected baseline results of a year-long randomized controlled trial among community-dwelling older people. BMC Musculoskelet Disord. 2011;12:277. Article Summary in PubMed.
* PubMed is a free online resource developed by the National Center for Biotechnology Information. PubMed contains millions of citations to biomedical literature, including citations in the National Library of Medicine's MEDLINE database.
Expert Review: Jun 13, 2020
Revised: Jun 13, 2020
Content Type: Guide

Sara Wallenrod
PT, DPT, board-certified clinical specialist in orthopaedic physical therapy
Stephen F. Reischl
PT, DPT, board-certified clinical specialist in orthopaedic physical therapy, on behalf of the Academy of Orthopaedic Physical Therapy
You Might Also Like...