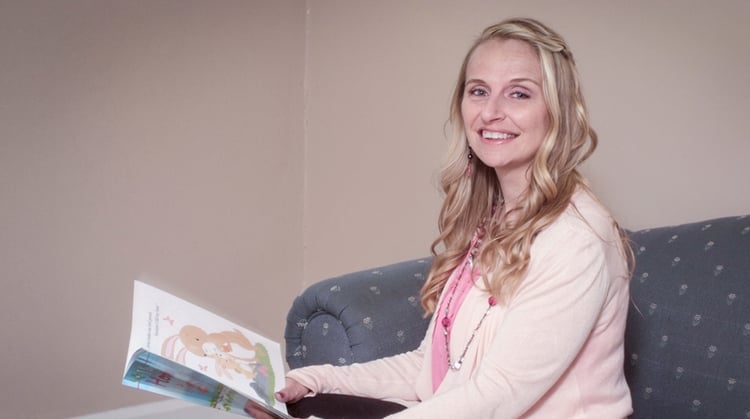 In late August 31, 2012, 35-year-old Kristin was running a few minutes late to her job as a preschool teacher. Running out the door with her lunch in hand, she had no idea that her morning would take a drastic turn and change the direction of her life.
The car accident happened very fast.
"I told myself that this was going to be a bad accident, but I was going to open my eyes afterward. And that is exactly what I did," Kristin said.
A police officer later told her that no one who responded to the accident believed that she was going to survive.
Her list of injuries was long and complex. She suffered a lacerated liver, sheered colon, bruised heart, pelvic hematoma, and a concussion that lasted for 4 months. She also broke 12 bones in her neck (cervical 5-7), back (thoracic 3-5 and lumbar 1-3), right ribs, left hip, and right heel. She had 4 surgeries, and 38 inches of her intestines removed.
Despite all of this, she had hope.
"What kept me going was the thought that I could start over," Kristin said. "I was pretty unhappy with how I was allowing my life to unfold, and I knew I did not want to die this way...to die with living an unhappy life. I had promised myself, and the universe, that if I survived I would do everything I could possibly do to become physically and mentally strong enough to live a fulfilling, happy life."
During her 12-day hospital stay, Kristin lost a significant amount of muscle mass, and she wore a cervical collar and brace around her spine and chest that she called her "turtle shell." She also had a cast on her right foot and leg.
"I literally needed assistance in doing everything, such as rolling over in bed," she said. "I was completely reliant on the help of others."
After her hospital stay, she was transferred to HealthSouth Rehabilitation Hospital in Ludow, Massachusetts, for a month. It was there that her life took another drastic turn—this time for the better.
"I know this may sound a little funny, but I thoroughly enjoyed my time there," she said. "I was so thrilled that I was given a second chance. I couldn't help but be happy and keep a smile on my face, despite the incredible pain I was enduring."
It was at HealthSouth that she met physical therapist Stephanie Brusseau.
Together they worked to progress Kristin from lifting herself out of her wheelchair, to standing for a few seconds at a time, and then to walking. It was a long road, but Kristin's optimism at her second chance at life fueled her rehabilitation.
"My favorite part of the day was going downstairs to the physical therapy room," she said. "I didn't completely enjoy the weekends because I knew I wouldn't be working on improving my physical status with Stephanie."
Prior to this car accident, Kristin was active, and enjoyed hiking, kayaking, and biking. Today, she has had to make adaptions to her activities due to permanent damage from her heel injury, but enjoys shorter hikes, going to the beach, and traveling with her fiance and family. She is working part-time as a preschool teacher, and enjoys cooking and collecting sparkly costume jewelry.
"I am now living the life I deserve to live, and Stephanie helped to drastically improve the quality of my life," Kristin said. "I will forever be grateful to Stephanie, and everyone else at HealthSouth who has helped shape who I am today."
Explore more patient stories like this one!
Physical therapists are movement experts who improve quality of life through hands-on care, patient education, and prescribed movement. You can contact a physical therapist directly for an evaluation. To locate a physical therapist in your area, visit Find a PT.