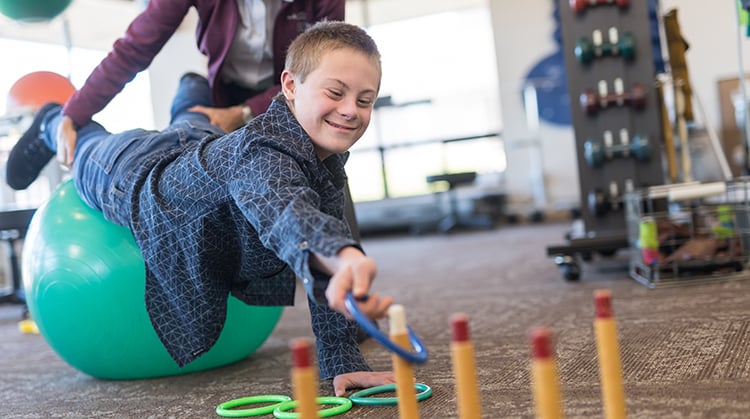 Down syndrome is a genetic disorder causing babies to be born with an extra copy of chromosome 21. That additional copy changes the typical development of the brain and the body, causing cognitive and physical challenges. The effect is usually mild to moderate.
People with DS can lead healthy, happy, and productive lives — going to school, participating in family and community activities, and holding jobs. Working side-by-side with children and adults with DS and their families, physical therapists can help prevent some of the complications of DS, such as developmental delay and obesity. They also can help them boost and maintain heart and cardiovascular fitness.
Although DS continues throughout a person's life span, children and adults with DS can enjoy the many health benefits of physical activity by working with a physical therapist to improve their ability to perform movement activities and everyday tasks. Regular physical activity is important for people with DS. It benefits their physical, mental, and social health, and can prevent or improve many chronic conditions, such as heart disease, diabetes, obesity, depression, and some cancers.
A physical therapist will design a treatment program specific to your child's needs and goals that may include the following:
1. Improving Developmental Skills
Physical therapists can help your child learn to master motor skills such as crawling, pulling up from sitting to standing, and walking. They also can help caregivers support their child's movement development by providing hands-on training for positioning, movement, feeding, and play, and suggest changes at home to encourage movement and communication development.
2. Improving Strength
Your physical therapist can teach exercises to improve and increase muscle strength. For children, this can include games and fun tasks that adjust as the child grows, identifying new fitness activities to reduce the risk of obesity and improve and maintain heart health.
3. Improving Balance, Coordination, and Postural Control
Your physical therapist may use equipment such as a firm, round pillow or an exercise ball to improve your child's ability to hold the head erect or to maintain a sitting position. Other skills such as jumping, skipping, and dribbling a ball may be incorporated into a fun physical therapy regimen.
4. Improving Physical Fitness
Your physical therapist will help determine the specific exercises, diet, and community involvement that can promote healthy living choices for your child, and prevent complications of DS, such as activity limitations and decreased participation with siblings or peers.
Physical therapist treatment may be provided in the home or at another location like a community center, school, or a physical therapy outpatient clinic. Physical therapists work with other health care professionals to address the needs of individuals with DS, as treatment priorities shift throughout their life spans.
Physical therapists are movement experts. They improve quality of life through hands-on care, patient education, and prescribed movement. You can contact a physical therapist directly for an evaluation. To find a physical therapist in your area, visit Find a PT.