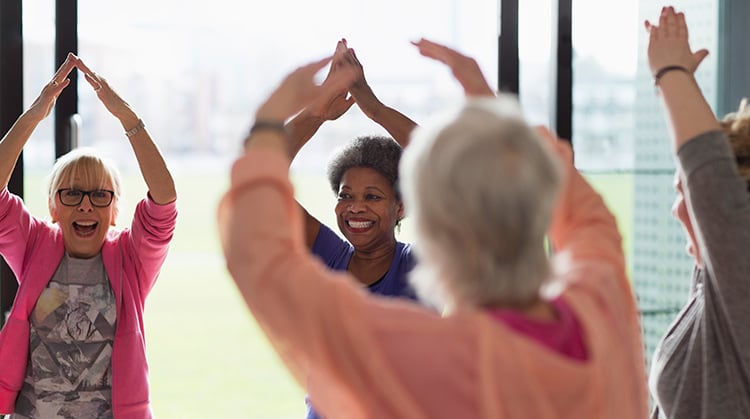 Regular physical activity can benefit your physical, mental, and social health, and prevent or improve many chronic conditions, such as heart disease, diabetes, obesity, depression, and some cancers. Physical activity is any form of exercise or movement of the body that uses energy, according to the U.S. Department of Health & Human Services.
The Centers for Disease Control and Prevention has reviewed the evidence and identified several community-based physical activity programs shown to help people manage arthritis and related chronic conditions outside a therapeutic setting. The American Physical Therapy Association also supports the use of these programs as part of patient care.
Choosing and Locating a Program
Community-based physical activity programs are low-cost and widely available. They meet in convenient locations such as recreational facilities and community centers. Fees may vary by location. Talk to your physical therapist to find a program that's right for you and to see what programs are offered in your area.
Arthritis Foundation Aquatic Program. The Arthritis Foundation Aquatic Program is a group exercise program where you'll learn safe stretching, breathing, endurance, and balance activities. The program is now supported by the Aquatic Exercise Association. Check the Arthritis Foundation class list for current locations.
Arthritis Foundation Exercise Program. The Arthritis Foundation Exercise Program is a gentle, warm water exercise program held at local pools. The program is now supported by the Aquatic Exercise Association.
Active Living Every Day. The Active Living Every Day program encourages people who are sedentary to make exercise part of daily life by helping you develop an individual exercise plan. Use the course locator to find a program near you.
EnhanceFitness. EnhanceFitness is an award-winning group exercise program that includes stretching, low-impact aerobics, and strength training. Check this list of programs.
Fit & Strong! Fit & Strong! is designed for people with knee and hip osteoarthritis that teaches practical exercise to help with everyday activities. Check the map of locations for a program near you.
Walk With Ease. Done in a group or on your own, the Walk With Ease program guides you in how to start walking safely and stick with it. To find instructor-led programs in your area, call 800-283-7800 or contact the Arthritis Foundation office in your state. You can order the self-directed course materials from the Arthritis Foundation Online Store.
If you have problems with movement or participating in physical activities you enjoy, a physical therapist can help. Physical therapists are movement experts who improve quality of life through hands-on care, patient education, and prescribed movement. You can contact a physical therapist directly for an evaluation. To locate a physical therapist in your area, visit Find a PT.