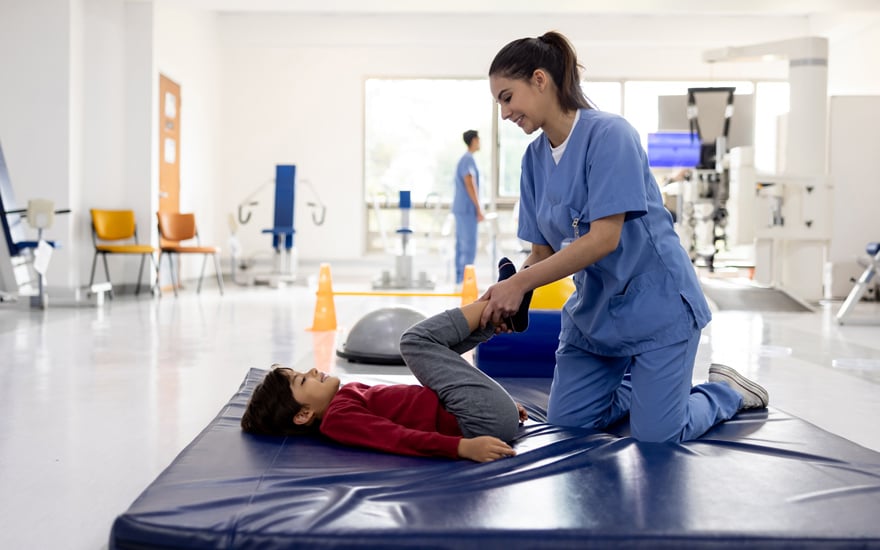 Duchenne muscular dystrophy is a rare disease that causes muscles to degenerate. While there is no cure at this time, treatments and therapies can help people live longer and healthier lives. They also can help people keep as much independence as possible. This article is about physical therapy treatment for Duchenne based on the best standard of care.
Physical therapists are movement experts. They improve quality of life through hands-on care, patient education, and prescribed movement. Physical therapy is vital to help preserve muscle strength for as long as possible. It also helps people with Duchenne adapt to changes as the disease progresses.
Here are five things every person, and their family, should know about physical therapy for people with Duchenne.
1. Starting Physical Therapy Early Is Crucial
Children with Duchenne typically receive a diagnosis before the age of 5. After a diagnosis, children should begin physical therapy to support their long-term health and well-being.
The progressive nature of Duchenne can cause:
Early muscle loss and scar tissue in muscles.
Related problems like loss of function and contractures (fixed shortening) of the limbs, feet, and hands. These can begin as young as age 4.
Scoliosis later in life.
Starting a physical therapy program right after diagnosis can help families navigate the disease. Physical therapists address needs as they arise. They can help people with Duchenne delay the onset or severity of related problems.
2. Everyone With Duchenne Can Benefit From Physical Therapy
Optimal care for people with Duchenne requires a personalized, comprehensive approach. It should include physical therapy in addition to any medications.
A corticosteroid regimen is the current medical standard of care for Duchenne. But steroids do not address functional needs and can have unwanted side effects. Clinical trials are ongoing to study genetic treatments. If proven effective, they will be right for some people but not all. However, everyone with Duchenne can benefit from physical therapy.
Physical therapy can help people with Duchenne to:
Minimize contractures of the muscles that limit movement.
Prolong their ability to walk through stretching and home programs.
Reduce the risk of fractures through regular safety evaluations. A physical therapist can recommend changes to your daily routine.
Preserve muscle strength and deter muscle loss through energy conservation.
Increase independence by recommending equipment to address specific needs.
Examples include power wheelchairs and robotic arm supports.
Deter the onset of scoliosis. A physical therapist can evaluate seating and make adjustments to aid postural support. They can consult with you or your child's school to address specific needs. They also can enhance recovery of walking after injuries such as leg fractures.
3. Physical Therapy Can Help Preserve Muscle Strength
Proper and early physical therapy can help to preserve muscle strength. This can prolong the ability to walk and reduce the onset or severity of scoliosis. Physical therapy also can enhance recovery of walking after injuries like leg fractures. A physical therapist experienced in treating people with Duchenne will design a program to your specific needs. The program will be based on the best available evidence and include:
Patient education and techniques to help conserve energy.
Specific recommendations for ways to preserve muscle strength and prolong the ability to walk.
4. Physical Therapy Can Help You Stay One Step Ahead of the Disease
The journey with Duchenne is ever changing. Physical therapy plays a major role in preparing for and addressing upcoming impairments. They help people with Duchenne conserve energy to delay the progression of muscle loss, which can reduce fatigue. Minimizing fatigue can improve quality of life.
As the disease progresses, physical therapy can help people with Duchenne and their families:
Manage chronic impairments.
Learn adaptive skills.
Use assistive technology.
Attain the right equipment when needed.
5. Finding the Right Physical Therapist Is Vital
Treating someone with Duchenne requires a thorough understanding of the disease to deliver appropriate, evidence-based treatments. Since Duchenne is rare, few physical therapists, or other health care providers, have experience treating it.
Ask the physical therapist these questions before choosing a provider:
Have you ever treated someone with Duchenne?
If so, what age(s) were they, and what did you focus on in their treatment?
If not, have you recently trained on the disease, and are you willing to review the latest evidence for proper treatment before taking me on as a patient?
Would you be able to refer me to a physical therapist who specializes in Duchenne?
In any case, ask your physical therapist to consult the latest consensus on care in the:
The American Physical Therapy Association's Find a PT tool can help you search for a physical therapist near you. You may want to look for:
A physical therapist associated with a neuromuscular disease clinic. You are more likely to find one at a children's specialty hospital.
A board-certified clinical specialist in pediatric or neurologic physical therapy.
A physical therapist who is certified by CureDuchenne.
Duchenne is a serious diagnosis. But there are things you can do to preserve as much independence as possible. Currently, physical therapy is one of the most effective treatments available for Duchenne.
Additional Resources