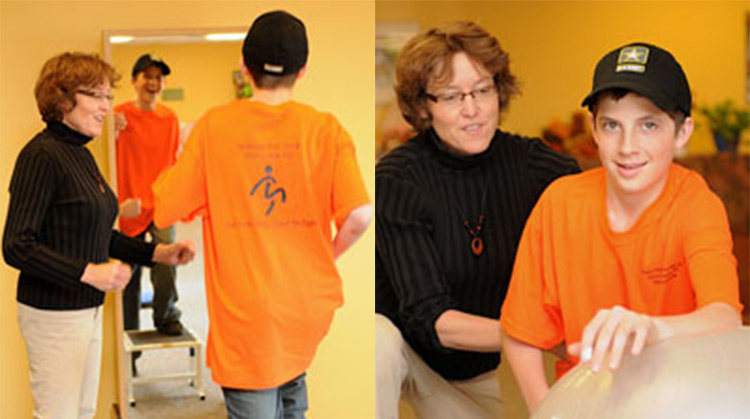 On a December day, 13-year-old Tanner Franson from Mondovi, Wisconsin was building a snow fort with a friend when he suddenly collapsed on the front stairs of his friend's house and was rushed to the hospital with his life on the line and an uncertain future.
He had suffered a hemorrhagic stroke.
Caused by an undetected birth defect, brain arteriovenous malformation, Tanner's stroke resulted in a coma and the need for three brain surgeries. The outlook was grim.
But by the following May, Tanner was attending half-days at school, made the honor roll, and was looking forward to the possibility of getting back into baseball and soccer.
His mother, Diann Franson, credits her son's recovery to his physical therapist, Nancy Olson-Bauer, PT, of Mondovi Physical Therapy. Under her care, Tanner has made the kind of progress that his mother had previously thought impossible.
Nancy herself lives with a neurological condition, multiple sclerosis, and her personal experiences make her more inclined to notice slight impairments most health care professionals might not. She also knows she can push her neurological patients to work as hard as any other to improve strength and achieve recovery.
Their work together and Tanner's success are a living testament to her philosophy.
Physical therapists, such as Nancy, provide care for people in a variety of settings, including hospitals, private practices, outpatient clinics, home health agencies, schools, sports and fitness facilities, work settings, and nursing homes.
Physical therapists diagnose and treat people of all ages, including newborns, children, and elderly individuals. They also work with other health care providers ensure people get the best care.
Physical therapists are movement experts. They improve quality of life through hands-on care, patient education, and prescribed movement. You can contact a physical therapist directly for an evaluation. To locate a physical therapist in your area, visit Find a PT.