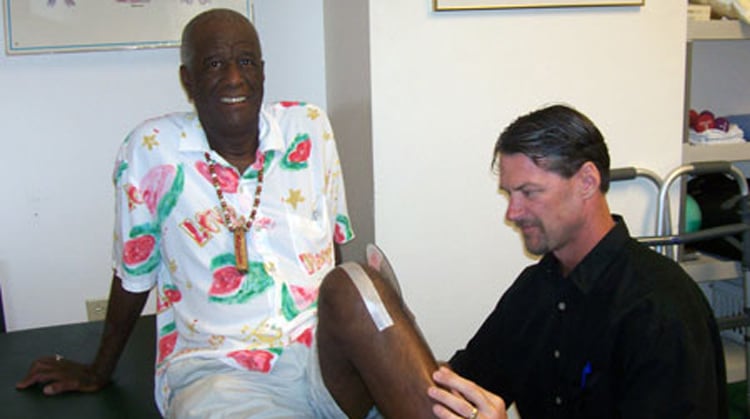 Wally Amos is known for his limitless energy and positive thinking.
As founder of Famous Amos Cookies, he parlayed his success as the father of the gourmet chocolate chip cookie industry into a career that includes the roles of author, inspirational speaker, and entrepreneur many times over.
Several years ago, this hard-charger was sidelined by an excruciating pinched nerve in his shoulder that affected not only his range of motion, but also his sense of touch.
The pain was significant enough to potentially cancel a 4-leg business trip, so he reached out to a friend, physical therapist Kevin Lockette, PT, for help.
Lockette, was able to help fully restore Amos' shoulder and alleviate his pain. Amazed by the results, Amos was able to move forward with his travel plans and his life.
Years later, Amos would once again call upon his physical therapist. Scheduled to undergo a total knee replacement, Amos knew the only way he would get back on his feet would be if he placed himself under the expert guidance of Lockette.
Four weeks following surgery, Amos was improving rapidly. Barely needing his crutches, he was moving around better than he ever thought possible.
Motivated by Kevin's compassion, knowledge, and ability to educate him on his own body mechanics, Amos is convinced that his success is a result of the individual attention he received from a health care professional who understood his body and cared about his recovery.
Wally Amos has become such a believer in physical therapy that he has teamed up with Lockette to narrate a video for people with Parkinson disease, one of Lockette's specialty areas. To Wally Amos, Lockette is a member of his family and his physical therapist for life.
Physical therapists are movement experts who improve quality of life through hands-on care, patient education, and prescribed movement. You can contact a physical therapist directly for an evaluation. To locate a physical therapist in your area, visit Find a PT.