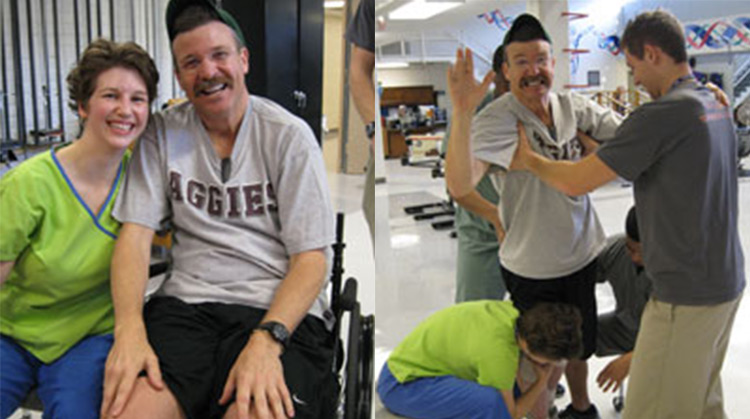 Seeking a small reprieve from his hectic work schedule as a plastic surgeon, Dr. Eugene Alford of Houston, Texas, headed to his ranch 70 miles away from his home in town to handle some chores.
As he was clearing some brush with his tractor, the top of a dead white oak tree snapped, slamming down on him and pinning him down. Unable to use his legs, he was trapped. He managed to use his mobile phone to call his wife for help.
Eugene suffered a crushed T4 vertebra, damage to several other vertebrae, and a blockage of blood supply to his spinal cord, which left him paralyzed below the waist.
After being air lifted to the hospital, he underwent surgery to fuse and reinforce his vertebrae with steel rods. He would remain in the Intensive Care Unit for two weeks.
His condition improved, yet doctors were not optimistic about his ability to walk again. Despite the daunting odds, this successful physician and rancher was determined to strive for recovery and a return to his life.
To that end he committed himself to the hard work it would take with his physical therapist, Marcie Kern, PT, to achieve his goals.
Incorporating research protocol from the Christopher and Dana Reeve Foundation, Kern is working closely with Eugene to manage his intense locomotor training, which involves suspension from a harness over a treadmill while she and others manipulate his legs to simulate walking. This treatment, coupled with other intense rehabilitation, has helped him make remarkable gains in motion, strength and coordination.
The four-day per week sessions with Kern are paying off and the results are nothing short of a miracle. After enduring devastating spinal injuries, Eugene is not only well on the road to recovery but is now back at work, seeing patients and performing surgeries from an elevated wheelchair, a feat that was not predicted for someone who had sustained such traumatic injuries.
Eugene believes that without the motivation and persistence of both his wife and his physical therapist, these achievements would not have been possible.
When speaking about Marcie Kern, Eugene explains, "The combination of her clinical knowledge, motivation, and encouragement is what made all of this possible. Her ability and drive to help get me through the tough days makes me believe I am capable of many more achievements through rehabilitation."
As Eugene gains strength, bears more weight, and gains range of motion, there is no telling how much more he can achieve through his teamwork with his physical therapist. Their work together thus far has proven that anything can be possible.
Physical therapists are movement experts who improve quality of life through hands-on care, patient education, and prescribed movement. You can contact a physical therapist directly for an evaluation. To locate a physical therapist in your area, visit Find a PT.