Listening Time — 29:28
Far too many of us have seen for ourselves, in our family members and other loved ones, the sad, steady march of Alzheimer's disease as it destroys memory and thinking ability. But what about the physical effects of Alzheimer's—which also are significant, but which we tend not to think about as much?
The physical effects of Alzheimer's disease can be addressed—with major positive impacts on the quality of life of people who have the disease and their caregivers.
Plus, research shows that regular exercise actually can improve memory in people with Alzheimer's, and that it can delay symptoms in those who have the disease but haven't yet shown signs of it.
In this episode, Jennifer Nash, PT, DPT, shares the reasons why people with advancing dementia can benefit from physical therapy.
Download the podcast on iTunes, Spotify, or Google Play, or listen below.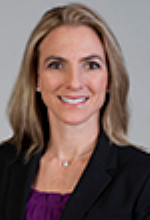 Jennifer Nash, PT, DPT, board-certified neurologic clinical specialist, is an assistant professor in the Department of Physical Therapy at the University of Nevada, Las Vegas, who also treats patients with neurodegenerative diseases at Cleveland Clinic Lou Rouvo Center for Brain Health. She is a certified dementia practitioner, a certified exercise expert for aging adults, and a multiple sclerosis certified specialist. She is trained in Parkinson Wellness Recovery, Rock Steady Boxing for Parkinson disease, and neurodevelopmental treatment for rehabilitation of stroke.