Listening Time — 20:35
Affecting an estimated 5 million adults, 80-90% of them woman, fibromyalgia is a condition with symptoms that include widespread pain and fatigue.
Difficult to diagnose, fibromyalgia is also a condition without a cure. Symptoms can be treated and managed with components such as education and exercise. In this episode of Move Forward Radio, physical therapist Dana Dailey, PT, DPT, discusses the diagnosis, treatment, and management of fibromyalgia.
Download the podcast on iTunes or listen below:
Read more about fibromyalgia here.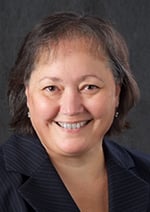 Dana Dailey, PT, PhD, is an assistant research scientist in the Department of Physical Therapy and Rehabilitation Science the University of Iowa. She is currently coordinating a multisite intervention clinical trial in women with fibromyalgia. As a primary investigator, she has successfully completed research into the intervention of a onetime TENS treatment in women with fibromyalgia, as well as a pain and fatigue study with individuals with fibromyalgia. With 30 years of extensive clinical expertise as a physical therapist, she has focused on the treatment of people with fibromyalgia. She currently serves as the president of the Pain Management Special Interest Group of the American Physical Therapy Association's Orthopedic Section.