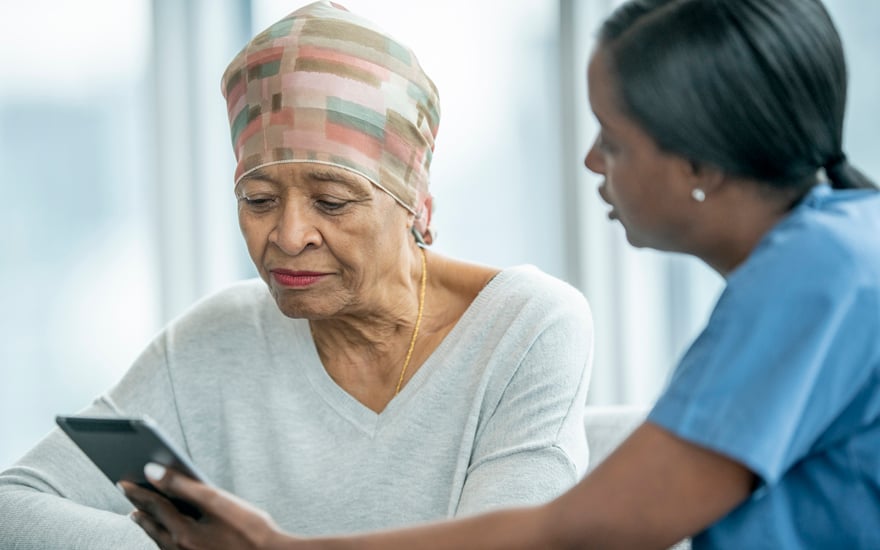 Physical activity and exercise provide short- and long-term benefits for people undergoing cancer treatment.
There are more than 1.7 million new cases of cancer each year, with nearly 600,000 dying of cancer, according to the American Cancer Society. Physical inactivity appears to contribute to these numbers. People undergoing cancer treatment, and cancer survivors, should maintain consistent physical activity to decrease fatigue and improve the ability to perform daily tasks.
According to the Department of Health and Human Services, physical activity can help cancer survivors manage many cancer-related problems and improve a person's chances of surviving certain types of cancer, including bladder, breast, colon, lung, and prostate. Physical activity also has many other benefits for cancer survivors during and after cancer treatment. Unfortunately, physical inactivity is low in breast cancer survivors and the vast majority do not meet HHS guidelines 10 years after their diagnosis.
Physical therapists create personalized treatment plans that use physical activity to help cancer survivors manage side effects of treatment such as pain, fatigue, and reduced balance, strength, and endurance. They work with cancer survivors to improve their health and function, assist them in the return to work and other important life activities, and reduce their risk for a cancer recurrence.
Exercise during cancer treatment can help you:
1. Reduce fatigue
Exercise helps boost energy and endurance during cancer treatment.
2. Maintain muscle strength
Safe exercise can help keep your muscles strong.
3. Reduce stress
Exercising during cancer treatment can help ward off anxiety, fear, and depression.
4. Prevent or reduce lymphedema and swelling
Special physical therapy treatments address lymphedema and swelling.
5. Reduce pain
Safe and comfortable exercise is proven to be effective in reducing pain.
6. Prevent and reduce weight gain
Staying physically active can help you maintain a healthy weight.
7. Reduce brain fog
Exercise has an immediate and long-lasting effect in reducing brain fog.
8. Reduce bone density loss
Certain exercises done while standing and moving can stimulate your bones to stay healthy and strong, helping to avoid fractures.
9. Improve the survival rate
Research studies have suggested that consistent exercise during cancer treatment may have beneficial effects that improve the outcome of that treatment.
10. Assist athletes to continue sports training
Athletes undergoing cancer treatment may not have to give up their sport. A physical therapist can help design a special exercise plan that includes an athlete's chosen sport, a modified version, or aspects of it.
For substantial health benefits, adults should do at least 150 minutes to 300 minutes a week of moderate-intensity, or 75 minutes to 150 minutes a week of vigorous-intensity aerobic physical activity. This can include an equivalent combination of moderate- and vigorous-intensity aerobic activity, with aerobic activity spread throughout the week. Adults with chronic conditions or disabilities, including a history of cancer, should try to meet these guidelines. If they are unable to do so, they should engage in regular physical activity according to their abilities and should avoid inactivity.
A physical therapist can design a physical activity program for you that is safe, effective, and compatible with your cancer treatment plan.
Physical therapists are movement experts who improve quality of life through hands-on care, patient education, and prescribed movement. You can contact a physical therapist directly for an evaluation. To find a physical therapist in your area, visit Find a PT.
For more information and resources, visit our health center on physical therapy for cancer-related problems.