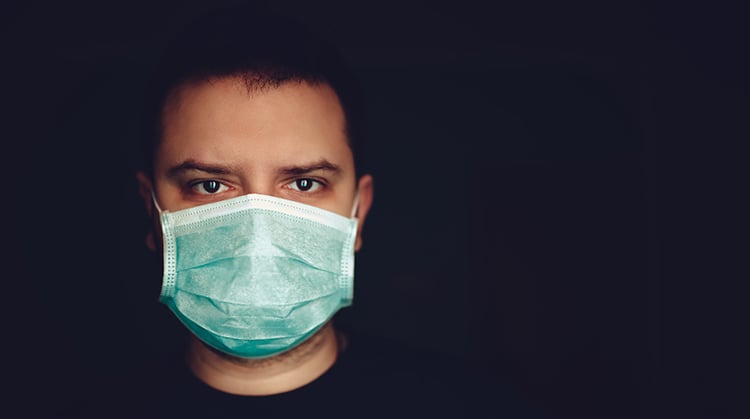 COVID-19 can cause symptoms ranging from mild to severe to no symptoms at all. People with severe symptoms may require care in a hospital and a ventilator to breathe. People are at higher risk for more severe complications if they also have existing health conditions like:
A compromised immune system.
Physical therapists work alongside other health care providers on the front lines treating patients with COVID-19 in the hospital, and after the initial recover in outpatient settings.
Some patients with COVID-19 may develop acute respiratory distress syndrome.


What Is Acute Respiratory Distress Syndrome?
ARDS is a serious condition that can develop over a few days or come on suddenly and quickly worsen. It occurs when a person can't get enough air and oxygen into their bloodstream due to a buildup of fluid in the lungs. Shortness of breath is often the first symptom. ARDS can affect people of any age as a result of infection, severe injury, or other illness.


How Is ARDS Treated?
In the hospital, the medical team will work to improve blood oxygen levels. They also will identify and treat any other underlying causes. Treatment includes:
Breathing assistance.
Blood transfusion.
Face-down positioning (sometimes called prone positioning).
Nutrition and fluid management.
Physical therapy is often prescribed to prevent skin breakdown that can lead to wounds, to properly move patients, and to create a mobility plan during the hospital stay.
Patients who spend more than a few days on a ventilator are very weak. They may require help to sit up on their own. A physical therapist can help them progress from laying in bed, to sitting, to standing, to moving from the bed to a chair. Physical therapists monitor a patient's vital signs to ensure safety during therapy sessions.
They will help patients work up to taking short walks before they can safely go home. Some patients will need to go to a rehabilitation facility for more physical therapist treatment.


What Are the Effects of ARDS?
People who experience ARDS are at a much higher risk for developing other problems. These problems include scarring of the lungs, blood clots, secondary infections, or a collapsed lung. While some people recover completely, most people who survive ARDS will have some lasting effects or develop post-intensive care syndrome. And they will need the help of a physical therapist to get back as much function as possible. Lasting effects can include:
Difficulty breathing. It can take up to two years for people recovering from ARDS to regain lung function. A physical therapist can help patients maximize their lung capacity.
Depression. It is common for people who survive ARDS to experience a period of depression.
Memory loss and trouble thinking clearly. People who require a ventilator to help them breathe experience lower levels of oxygen in their blood. This, along with medicines used while on a ventilator, can lead to memory loss and confusion.
Muscle weakness and fatigue. Requiring ventilator support means a person is not using their muscles. This causes muscles to weaken, sometimes significantly.
Managing Long-Term Effects
Some patients have been called COVID "long-haulers." This has led to the terms "long COVID-19" or simply "long COVID." Around 10% of people who get COVID-19 become long-haulers. As research continues, the condition is now being referred to as PASC, which stands for Post-Acute Sequelae of SARS-CoV-2. In simple terms, PASC refers to the lingering symptoms of COVID-19 that "long-haulers" are facing. Read more about PASC symptoms.
Long COVID can affect anyone infected with COVID-19, even those who've had mild illness or who did not need care in the hospital or ICU. A physical therapist may begin working on breathing techniques and monitored physical activity management. They will monitor for worsening of symptoms with activity.
Physical therapists and physical therapist assistants can help survivors of COVID and COVID long-haulers by treating the effects of PASC and ARDS. The main goals of rehabilitation are:
Limiting the severity of complications.
Restoring muscle strength.
Reducing fatigue.
Improving lung function.
Returning the patient to independence.
After intensive care, rehabilitation and monitored exercise are recommended as soon as possible. The sooner physical therapy begins the lesser the chance of continued muscle disuse. And, the sooner patients can gain back as much of the strength they lost in the hospital as possible. When it is safe to do so, a physical therapist will prescribe regular physical activity. The exercise plan will be designed to help maintain and improve heart, lung, and muscle function. Physical activity also can reduce the risk of anxiety and depression.
A physical therapist may recommend activities that people with long COVID can do at home, including low-intensity stretches to improve range of motion, and strength and balance training. Long COVID is unpredictable, and research is evolving. Post-exertional malaise, or PEM, is a common symptom of long COVID. Adding additional physical activity is considered safe when symptoms are managed for a person's energy level during and following exertion. Visit our Health Center on COVID-19 and Long COVID to learn more.
Physical therapists are movement experts who improve quality of life through hands-on care, patient education, and prescribed movement. You can contact a physical therapist directly for an evaluation.
To locate a physical therapist in your area, visit Find a PT.