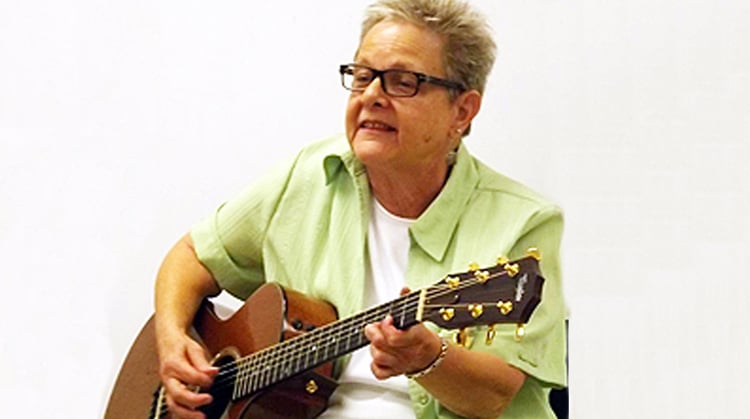 Pam Pelton is a school teacher from Kentucky who loves to play her guitar and give hugs.
All of that, and more, became a challenge when pain and discomfort from a shoulder injury started limiting Pam's life. She couldn't sleep through the night or perform many of the daily activities we so often take for granted – things as simple as reaching into cabinets, buttoning her blouse, and lifting her arm to push the garage door opener.
"I just simply didn't have the strength," Pam said, "and the pain was so tremendous."
To address the problem, Pam had total shoulder replacement surgery. But more than a year later the pain hadn't gone away, and Pam's range of motion remained limited.
Pam's physician recommended that Pam look into dry needling treatment, and that led her to physical therapist Chad Garvey, PT, DPT, OCS, FAAOMPT, CSCS, who immediately identified Pam's problems with pain, strength, and range of motion.
In just one session, his dry needling treatment, which consists of inserting solid filament needles into the skin targeting various trigger points, had an immediate effect.
"That first time that I had the dry needling, that evening I was able to sleep the entire night without awakening, and also without taking any kind of medication whatsoever," Pam said. "That was absolutely the best thing I could have done for me at that time because I [hadn't] slept through the night for at least two years. … And I have slept wonderfully ever since."
Pam has also resumed the other activities she'd missed: playing the guitar in chapel, writing on the blackboard at school, and, better yet, giving out hugs.
"After the (dry needling) treatment in the clinic, when I was getting ready to leave I turned around and I said, 'Hey, Chad, let me give you a hug,'" Pam remembered. "And that shoulder and that arm went up enough that I could hug him, and that was so astonishing to me that it made me cry... I hadn't been able to do that kind of thing for so, so, so long."
Listen to Pam's experience with physical therapy on Move Forward Radio.

Listen to a physical therapist discuss what dry needling consists of, what it feels like, and how it works.
Physical therapists are movement experts who improve quality of life through hands-on care, patient education, and prescribed movement. You can contact a physical therapist directly for an evaluation. To locate a physical therapist in your area, visit Find a PT.