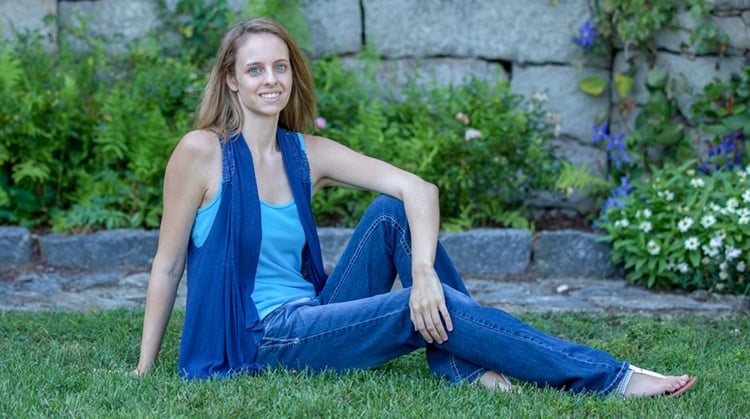 When she was 22, Margaret was volunteering at an equine therapy center when a 900-lb horse stepped on her left foot. Miraculously, she did not suffer any broken bones, but her pain would not go away.
The former gymnast was no stranger to injuries, so when the pain and swelling persisted 3 weeks after the accident, Margaret knew it was time to see a doctor. The x-rays only revealed a bunion on Margaret's right foot, which she opted to have removed surgically.
Within a few days of the surgery, however, Margaret started experiencing intense pain in her foot.
"My whole foot felt like it was on fire," she said.
After experiencing a few of these unbearable episodes, she started researching her symptoms.
"It kept coming back to complex regional pain syndrome, or CRPS," Margaret said.
At this point, she noticed hair growth on her foot and that the skin became shiny and purplish. Margaret went to her neurologist, who confirmed her own diagnosis of CRPS. He then referred her to physical therapy.
Physical therapy started at a slow pace.
"We took it step by step, literally, because I did not walk from January until May, and when I did, it was like walking on pins and needles," Margaret said. "It was hard for me to go baby steps, because, being an athlete, I used to be able to do all this stuff."
After working with her PTs she felt confident enough to begin putting weight on her foot again.
"I could trust that my PTs knew when to push me and when to pull back," she said. "I didn't want to push myself. I didn't want to injure myself any further."
While CRPS has greatly affected her life, including her ability to sleep or maintain a job, Margaret has gradually made some gains. She has advanced from using a walker to crutches, to walking without support, and she now walks normally.
Margaret is sharing her story of CRPS through a blog to help others with the condition. "I've learned that I'm probably stronger than I was before," she said of her journey with CRPS.
Listen to Margaret's story on Move Forward Radio.
Explore more patient stories like this one!
Learn more about complex regional pain syndrome.
Physical therapists are movement experts who improve quality of life through hands-on care, patient education, and prescribed movement. You can contact a physical therapist directly for an evaluation. To locate a physical therapist in your area, visit Find a PT.