Listening Time — 28:05
Pelvic pain, or pain in the lower abdomen, is common in females of all ages, including adolescent girls. Up to 5% of visits to gynecologists by adolescent females, in fact, are for pelvic pain. But there can be a big difference between the pain produced by menstrual cramps and other sources of pain that may be long-lasting and can pose serious health risks.
In this episode of Move Forward Radio, physical therapist Christine Mansfield talks about pelvic pain in adolescent girls in general, and endometriosis. She discusses causes, symptoms, risk factors, treatment, and the best ways to ensure optimal pelvic health in this specific population.
Download the podcast on iTunes, Spotify, or Google Play, or listen below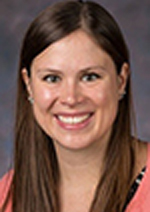 Chrissy Mansfield, PT, DPT, is a board-certified orthopaedic clinical specialist, certified athletic trainer, and a physical therapist at Nationwide Children's Hospital in Columbus, Ohio. She practices in the Sports and Orthopedic Physical Therapy department, is faculty member and mentor for the Sports Residency program, and developed the Women's Health program. She specializes in treating pelvic pain and dysfunction, endometriosis, and urinary incontinence, specifically in the pediatric and adolescent population.