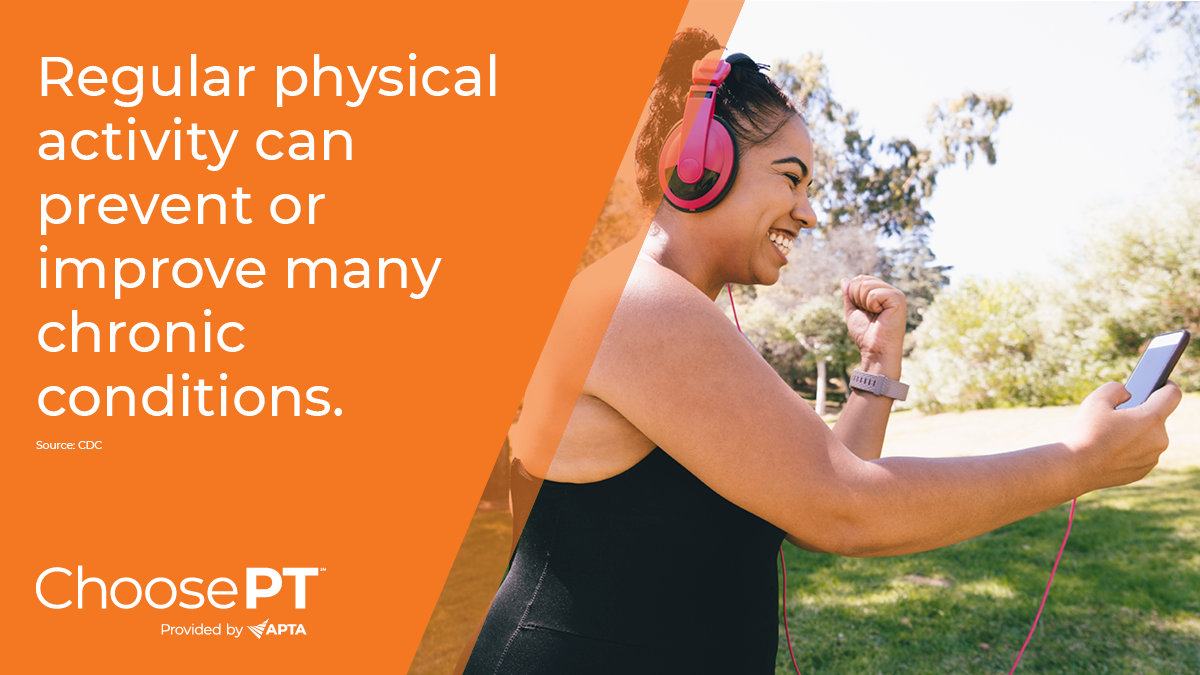 Physical therapists and physical therapist assistants are committed to reducing health disparities. They encourage everyone to be physically active.
Regular physical activity is one of the best things that you can do for your health. Unfortunately, inactivity levels are high in some racial and ethnic minority groups.
Hispanic and Black adults, who are at greater risk for many chronic conditions, self-report being much less active than white adults. CDC data shows that nearly one in three (30% to 32%) Hispanic and Black adults are physically inactive. Two in 10 (23%) non-Hispanic white adults are inactive.
Everyone, regardless of race, ethnicity, age, condition, or ability, can be more active. Regular physical activity can benefit your physical, mental, and social health. It can even help prevent or improve many chronic conditions, such as:
The American Physical Therapy Association produced a public service announcement about the benefits of physical activity and physical therapy. It encourages Americans to move more to improve their health and quality of life.
Here are five ways to start improving your physical activity:
1. Start Small
If you sit a lot, get up and move often. The American Diabetes Association states that people with diabetes should interrupt sitting with light activity every 30 minutes for blood glucose benefits. This is in addition to increasing structured exercise and limiting the time spent sitting overall. Regular exercise and physical activity also can reduce your risk of getting diabetes. Try activities such as:
Leg extensions and side bending.
Marching in place.
Repeated sitting to standing movements.
A walk up and down the steps or around your residence.
Any activity that increases your heart rate and makes you breathe faster counts. Work your way up to reaching the recommended amount of regular exercise and physical activity for your age.
2. Move More
Use times when you usually sit or stand to move instead. Get exercise while you're watching or listening to your favorite show. You can achieve 3,000 to 4,000 steps every 90 minutes by stepping in place while watching TV, according to a study. Try doing simple leg-strengthening exercises, such as squats and heel raises, while brushing your teeth daily.
3. Increase Intensity
Turn activities such as walking across a parking lot, cleaning your home, or playing with a child into moderate-intensity exercise by increasing your pace. You should feel like you're breathing hard but still able to have a conversation easily.
4. Free Resources To Help You Get Moving
Check out these free resources to help you get moving and improve your health and quality of life:
5. Choose a Physical Therapist
A physical therapist can help you steadily increase your physical activity. They can help you manage chronic diseases and injuries, and improve aches, pains, and weakness. They also can help you overcome barriers to physical activity.
Physical therapists are movement experts who improve quality of life through hands-on care, patient education, and prescribed movement. You can contact a physical therapist directly for an evaluation. To locate a physical therapist in your area, visit Find a PT.
April is National Minority Health Month.