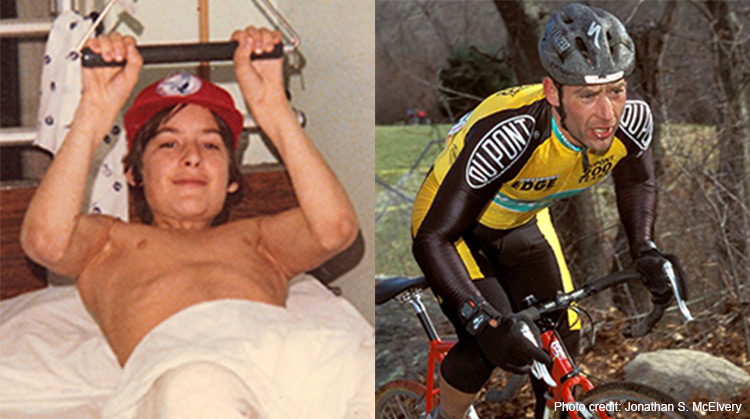 Today, he is a professional cyclist and a physical therapist. But as a teenager Tim Haitz moved so awkwardly that other kids called him "swivel."
Tim was critically injured at the age of 14 when, while riding his bike, he was hit by a car traveling 35 miles per hour. The crash sent Tim flying 20 feet and caused an array of injuries including a compound fracture of the right femur and tibia, severed hamstring muscles, dislocation of his pelvis and jaw, and a torn anterior cruciate ligament.
Tim spent days in a coma, weeks in the intensive care unit, and months in traction. Doctors recommended amputating Tim's leg above the right knee, but his mother resisted, wanting to protect the active lifestyle that was so important to her son. For almost a year, Tim didn't walk.
"I just knew I wanted to stand again," he said. "Everybody else was moving around me. I was incarcerated. I was feeling pretty down."
Regaining the ability to walk got Tim back into the world, but he was held back by a limp and pain that years later he would learn were the result of an undiagnosed 1-inch difference between the lengths of his legs. Inwardly, he was even more off balance.
"Everything changed," Tim said. "I just became a new person. I actually came to screeching halt. It actually took away a lot of my drive. I didn't have any desire or aspirations to achieve anything anymore."
Tim pushed on. He graduated high school and joined his family's commercial fishing business. But he was emotionally unfulfilled and experiencing considerable physical pain.
Eventually it was back pain that led him to physical therapist Michael Noonan, PT, MS.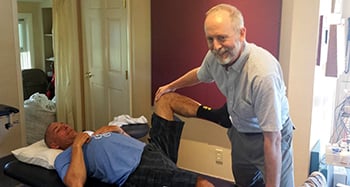 "He had some significant physical challenges," Michael remembered. "My main goal was just to get him in a little bit less pain, a little bit more functional, in a pain free manner."
Little by little, Tim and Michael worked to correct 3 decades of musculoskeletal dysfunctions and imbalances, including the leg length discrepancy, lax knee ligaments, scoliosis, and spinal degeneration. Along the way, Tim's mindset improved, too.
"I started to realize I [wanted] to get back to the person that I was before I got hit by the car," Tim said.
That meant getting back to an active, athletic life. Running was ruled out due to the ligament damage in his knees, so Tim returned to the bike and soon began racing. In the ensuing years Tim went from winning local time trial events to becoming a nationally ranked cyclist, ultimately competing at the Cyclo-cross World Championships in Belgium 3 years in a row.
But his metamorphosis wasn't done. Tim also decided to pursue a new career, in physical therapy.
Today, Tim works alongside Michael, the physical therapist who helped turn his life around.
"Because my life has been given back to me by a physical therapist," Tim said, "I think now I have a gift I know I can give to someone else."
Listen to Tim's experience with physical therapy on Move Forward Radio.
Physical therapists are movement experts who improve quality of life through hands-on care, patient education, and prescribed movement. You can contact a physical therapist directly for an evaluation. To locate a physical therapist in your area, visit Find a PT.