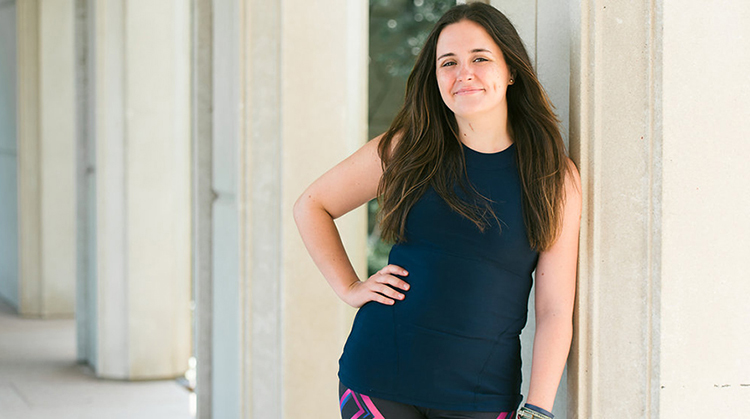 By the time Erin Jackson graduated from law school as the top-ranked graduate in her class, she had years of experience pushing through the intense pelvic pain that had been escalating in severity since she was 19.
But the pain ultimately overcame that willpower, and she had to postpone her wedding scheduled for the day after graduation. She also withdrew from a post graduation job, and cancelled her plans to take the bar exam.
Her regular "knife-like stabbing, salt-in-a-wound burning, labor-pain-level cramping" pelvic pain felt both internal and external. Sex was painful. So was wearing underwear or sitting on a chair. Eventually, Erin sometimes had to be carried from her bed to the bathroom, or could move around only in a wheelchair.
Over the years, Erin made countless attempts to resolve the pain, visiting with health care providers in 4 states. At one point she was on 12 oral or topical medications, plus regular nerve block injections. None of it helped.
"Unfortunately, as I got more medical interventions, it got worse," she said. "I couldn't drive, I couldn't work, I couldn't live without pain."
Years later, with Erin still experiencing pain and desperate for answers, her husband quit his job and decided they were moving from Albuquerque, New Mexico, back to Erin's hometown of Chicago to seek better medical care. While she was losing hope, he was confident she could recover. There, she met Dr Frank Tu, who reduced her medications to just 1 and referred her to a physical therapist.
Erin was skeptical when she met Sandy Hilton, PT, DPT, her physical therapist. But her treatment in the subsequent months defied Erin's expectations. Most surprisingly, it didn't hurt.
In addition, Erin's physical therapist did so much more than provide hands-on care. She also educated Erin about how the brain processes pain.
"I began having a sense of control over my body because I began understanding how it worked," Erin said. "It can be terrifying when you are in pain and you don't understand it."
Within 2 weeks, Erin noticed improvement when she could stand long enough to make herself a cup of tea. Then, slowly but surely, Erin's physical therapist began reintroducing her to aspects of life that pain had prevented. Erin learned to wear underwear and pants comfortably again. With the pelvic swelling gone, her physical therapist helped her learn to walk normally again. Soon, Erin was doing yoga, earned her rock climbing certification, and contemplated running a 10K.
"I am more athletic now than I have ever been," Erin said, after just 16 months of physical therapy that addressed a decade's worth of pain and side effects.
"My physical therapist was very creative in her approach to helping me manage my pain. She took the time to learn about me as a person, asked about my goals, and wanted to know my priorities. It was that caring and relationship-building that was so critical to my recovery."
Listen to Erin's story on Move Forward Radio.
Explore more patient stories like this one!
Read more about Erin's journey with chronic pelvic pain.
Physical therapists are movement experts who improve quality of life through hands-on care, patient education, and prescribed movement. You can contact a physical therapist directly for an evaluation. To locate a physical therapist in your area, visit Find a PT.