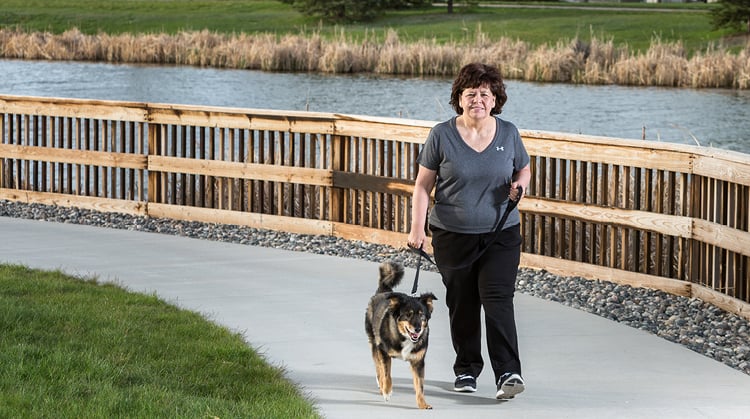 When she was 15, Louanne was in a car accident that crushed vertebrae in her spine.
Spinal fusion surgery followed, along with a month-long hospital stay in a Stryker frame bed, which allows patients with spinal cord injuries to be turned safely. Afterward, Louanne spent several months in a brace, but her injuries were effectively healed, and she wouldn't have any further back problems for 40 years, until she started experiencing back discomfort and sciatic pain in 2009.
Prescribed caudal injections and physical therapy, Louanne began receiving treatment from physical therapist Ken Clouston, PT, with whom she had already worked for an ongoing knee problem. The injections and physical therapy alleviated the pain for a short period of time, but she was eventually referred to a specialist who found that the vertebrae around her original fusion surgery were collapsing, and recommended another fusion surgery.
That surgery and physical therapy provided relief for 2 more years, until several other vertebrae collapsed and, again, another fusion surgery was required. Throughout it all, Louanne continued to receive physical therapy from Ken.
"He was also able to reassure me that he would be there right after my surgery to help with my rehabilitation," Louanne said. "Ken and his team worked with me patiently, pushing me when I needed to be pushed, and knowing when to say we had done enough for that day."
When Louanne began having knee problems, ultimately resulting in a total knee replacement, she knew just where to turn.
"As I look back over those almost 13 years, and 3 surgeries, the constant that remains is Ken Clouston and his team," said Louanne. "My surgeons knew my vertebra column and my knee in isolation, but my physical therapist knew my whole body. It was because of this knowledge and their expertise and compassion, my life has changed.
"There is no doubt in my mind that without physical therapy, the quality of my life would be very different today."
Explore more patient stories like this one!
Physical therapists are movement experts who improve quality of life through hands-on care, patient education, and prescribed movement. You can contact a physical therapist directly for an evaluation. To locate a physical therapist in your area, visit Find a PT.