Let's face it. Many of us get to the end of each day without doing the kinds of activities that are essential for our physical and mental health.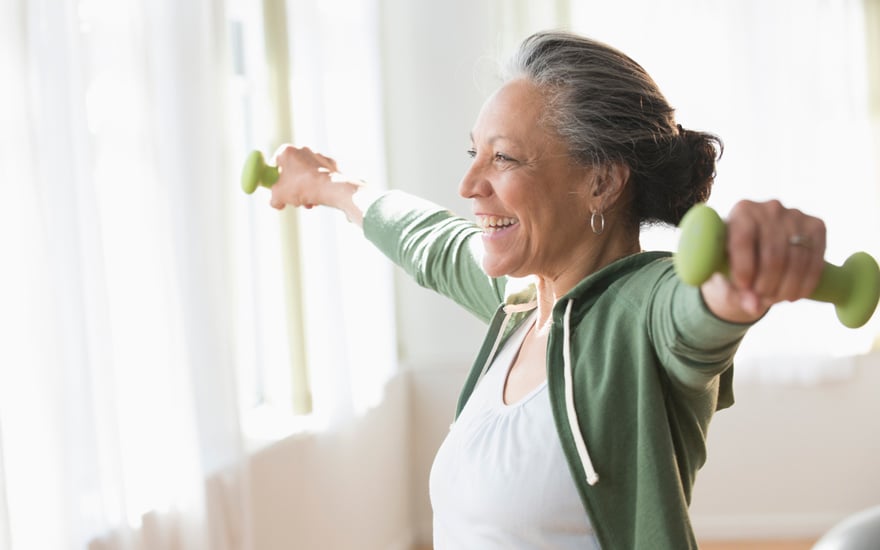 Perhaps you wake just in time to eat, then head to work, and sit all day till quitting time. Or your day is filled with child or elder care. You eat dinner, enjoy your favorite shows before bed, and repeat this pattern week after week.
If this is you, and your health is on the back burner, you're missing a key piece of living your best life.
Too much sitting and not enough movement can impact your physical, mental, and social well-being. It also increases your risk for chronic conditions such as heart disease, obesity, diabetes, and some cancers. And it can lead to loss of mobility in your neck, mid spine, and low back, as well as your shoulders, hips, knees and ankles.
Regular physical activity reduces stress and improves your overall health and well-being. It enhances the mind-body connection and offers many other benefits, including:
Now back to why you might not be getting enough physical activity. With all of life's commitments, it's hard to find the time to devote to daily exercise. Or perhaps you simply dislike exercise or can't afford a gym membership. No matter the reason, if fitting in 30 minutes a day of physical activity seems impossible or unpleasant, but you'd like to achieve the health benefits doing so offers, these tips are for you.
Four Ways to Improve Quality of Life
You can get the recommended amount of physical activity by doing things you might not even consider exercise. Doing them in small segments throughout the day can add up to the recommended amount. Regular physical activity can help achieve many health benefits.
Include these healthy habits into your day to feel better, become stronger, and live your best life. Make sure to add them gradually. And slowly increase intensity or duration over time.
1. Break Up Prolonged Sitting Times With Any Activity
It's been said that "sitting is the new smoking." Numerous studies have linked sitting for long periods of time with health concerns like obesity, heart disease, cancer, cognitive decline, and low back pain, not to mention a shorter life span. Try these tips to lessen the amount of time you spend sitting:
2. Fit In Short Bouts of Activity Throughout Your Day That Add Up to 30 Minutes
You don't have to do 30 minutes of physical activity all at one time. Even if you only have five minutes to spare, small bouts of activity count toward the 30-minute per day goal. And you can choose to move during times when you might otherwise sit. For example:
Even if you don't reach 30 minutes per day, you still can enjoy measurable health benefits from becoming more physically active. Any activity that elevates your heart rate is better than none.
3. Mind Your Strength, Balance, and Flexibility
Maintaining your strength, balance, and flexibility makes it easier for you to work, play, and do everyday activities. It also elevates athletic performance and reduces your risk of falling and possible injury. Try these exercises to improve or maintain your strength, balance, and flexibility:
4. Choose Physical Therapy Early for Any Movement Problems or Pain
If you have pain, a chronic condition, or limited movement that keeps you from being active, don't ignore it. Pain is the body's way of telling us there's a problem that needs to be addressed. And movement is vital to maintain quality of life. Physical therapists are licensed health care providers and movement experts. They can help people with chronic conditions achieve better health through movement. They help people manage pain and reduce the use of prescribed medications.
There are many reasons to see a physical therapist early for pain. A top reason: The sooner you address pain or movement problems, the sooner you can get back to doing what you need or love to do, and the less likely they are to worsen or lead to new problems. Contact a physical therapist early for diagnoses of any movement problems and a personalized treatment plan to help you get moving again.
If you have limited your activities because of a health condition or pain, or have concerns about your balance (or that of a loved one), a physical therapist can evaluate you and design a treatment program specific to your needs and goals.
Physical therapists are movement experts who improve quality of life through hands-on care, patient education, and prescribed movement. You can contact a physical therapist directly for an evaluation. To find a physical therapist in your area, visit Find a PT.
Ready to live your best life and age well? Incorporate more movement into your day. You'll see an improvement in your outlook and how you feel.